Tarpenbek1 in HYPER! playlist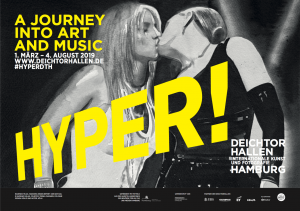 Curator Max Dax has compiled a Spotify playlist for his exhibition "HYPER! A Journey Into Art And Music" at Deichtorhallen Hamburg. The show inlcludes works by Rold Zander + Asmus Tietchens and runs from March 1st til 4th Augsut 2019.
The playlist includes the piece Tarpenbek 1 by Asmus Tietchens amongst works by Bob Dylan, GAS, Kraftwerk, F.S.K., Palais Schaumburg, Joy Division and many more.
Listen here on Spotify.
Image Copyright: Deichtorhallen Hamburg