Tarpenbek at Museum Ostwall Dortmund, August 2013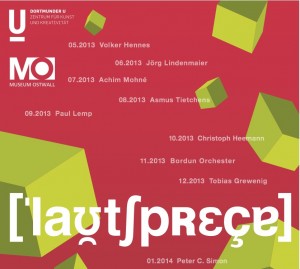 Asmus Tietchens' sound work TARPENBEK (aufabwegen, 2012) will be running continuously throughout the month of August 2013 at the renowned Museum Ostwall in Dortmund. The full work will run as a continous loop in the Lautsprecher-room in the museum's building which can be accessed free of charge during the museum's opening times.
Asmus Tietchens – TARPENBEK will run from Thur. 1st August – Sat. 31st August.The presentation of the work is part of the Lautsprecher sound art programme at the Museum Ostwall curated by Peter C. Simon.
The aufabwegen box set Asmus Tietchens/Rolf Zander: Tarpenbek will be available at the museum shop for the time of the display of the piece.
Below is some info on the Lautsprecher programme in german, copied from the website of the museum.
http://www.dortmund.de/de/freizeit_und_kultur/museen/museum_ostwall/lautsprecher_mo/
Lautsprecher. Klangkunst im Museum Ostwall 2013/14
Der Lautsprecher mit dem MO Klangkunstprogramm befindet sich auf der Museumsetage U4 mit Blick über die Innenstadt.
Die Klangkunst ist eine intermediale Kunstform der modernen und zeitgenössischen Kunst. Musikalische Kompositionen, Alltagsgeräusche, instrumentale Klänge und Töne finden Eingang in künstlerische Arbeiten wie Klanginstallationen und -aktionen, Musikperformances oder Hörstücke.
Das Museum Ostwall (MO) präsentiert täglich und kostenlos im Lautsprecher auf der Museumsetage, Ebene 4 des Dortmunder U, sein Klangkunstprogramm. Mit Blick auf die Stadt können Sie hier seit 2011 während der Öffnungszeiten des MO historische wie zeitgenössische Klangkunstproduktionen hören.
Das Programm von Mai 2013 bis April 2014 konzentriert sich auf neuere und neueste Produktionen, die zum Teil für diesen Raum entwickelt wurden. Die international auftretenden Klangkünstler arbeiten höchst unterschiedlich – mit Samples, Geräuschen, Elektronik, Plattenspieler oder auch klassisch.
Programm 05/13 – 04/14
•    05.2013 Volker Hennes
•    06.2013 Jörg Lindenmaier
•    07.2013 Achim Mohné
•    08.2013 Asmus Tietchens
•    09.2013 Paul Lemp
•    10.2013 Christoph Heemann
•    11.2013 Bordun Orchester
•    12.2013 Tobias Grewenig
•    01.2014 Peter C. Simon
•    02.2014 Marc Matter
•    03.2014 Crys Cole
•    04.2014 Bordun Orchester