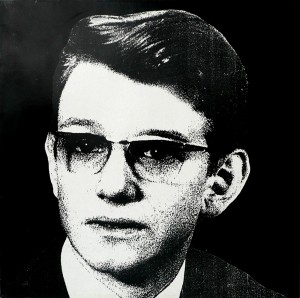 3. February 1947
Born in Hamburg, Germany.
1965 / First experiments with tape machines and electronic sound generators (rhytm machines, sine tone generators) and with concrete sounds.
1971 / Starts working with the Minimoog. Complex results through the use of 8-channel tape devices.
1975 / Marks the decision, to compose and realize electro-acoustic music "for a living".
1980 / First LP-release ("Nachtstücke") in France, produced by Peter Baumann ("Tangerine Dream").
1982 / Discovery of stylistic affinity to Industrial Music. LP "Formen letzter Hausmusik" (1984) is released on the british label "United Dairies". Through to 1989 numerous LP releases on labels of the international Industrial scene such as Esplendor Geometrico, Hamster Records, Multimood, A-Mission a.o., presenting works with prepared piano, water sounds and various other concrete material.
1985 / Experiments with the Fairlight CMI.
1986 / First travels to Brasil to present his work in the form of lecture-concerts upon invitation by the Goethe-Institute.

1989–2009/ Teaches sound design, communication design and sound research at the Hochschule für angewandte Wissenschaften Hamburg (HAW).
1991 / Second concert journey to South America invited by the Goethe-Institute, this time going to Argentinia, Chile and Uruguay.
since 1991  / Various CD-releases on international labels such as Staalplaat, Soleilmoon, Selektion, Mille Plateaux and more. Collaborations with other composers of the so-called noise scene like Merzbow, Achim Wollscheid, Thomas Köner, Vidna Obmana and more.
2003 / Awarded the "Karl-Sczuka-Preis für Akustische Kunst" by Südwestrundfunk (SWR).
2006 / Again awarded the "Karl-Sczuka-Preis für Akustische Kunst" by Südwestrundfunk (SWR).
Until today more than 50 LP- and CD-releases and numerous public performances in Germany and abroad.
2010-2013/ Teaches sound design at the Hochschule für bildende Künste Hamburg.
No studies, no academic education no scholarships just pure learning by doing = self-taught appropriation of creative skills and handling of analogue and digital studio technology. I am my own Tonmeister.