A 103 Fast Ohne Titel, Korrosion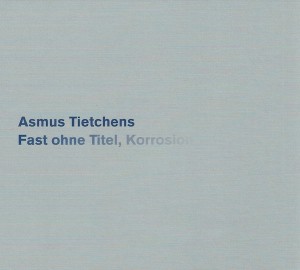 CD
Black Rose Recordings • BRCD 13-1012 • England/UK 2013
500 copies
Tracklist
01 Besonders Ernste Musik 02'38"
02 Ernste Musik 07'14"
03 Sehr Ernste Musik 09'00"
04 Eingeschränkt Ernste Musik 05'06"
05 Gerade Noch Ernste Musik 05'26"
06 Kaum Noch Ernste Musik 10'30"
07 Keine Ernste Musik 04'57"
08 Im Ernst? (Für H.K.) 03'33"
Black Rose Recordings label info:
Black Rose Recordings are proud to present the exceptional new album by Asmus Tietchens. Corrosion is a degradation mechanism. It is an insidious process often difficult to recognise until deterioration is well advanced. Are these new pieces a comment on the current state of noise music, serious music or both?
As a pioneer of electronic composition his work spans over three decades and doesn't fit easily into any one category. Early recordings ranged from experiments with tape machines and electronic sound through to experimental pop. Later works were a more sculptural blend of abstract microelectronics, industrial sounds and musique concrete.
Never straightforward or obvious, always unpredictable and innovative his ground breaking music influences many working in today's experimental music scene. He has worked almost exclusively as a solo artist but recent releases have seen him collaborate with well known and diverse artists such as Dieter Moebius (Cluster & Harmonia), Thomas Koener and Richard Chartier.