Abfleischung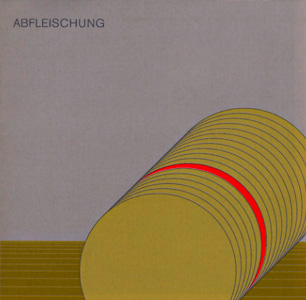 A S M U S  T I E T C H E N S  'Abfleischung' CD (DS108)
*****************************************************************
12th part in the ongoing re-release series of all early Tietchens albums
between 1980-1991. ABFLEISCHUNG is based on material recorded by Tietchens
as early as 1967-1970. These recyclings made in 1989 became the 20 short
tracks on this album which was originally released in edition of 500 copies
on Hamster Records in 1989. The CD includes two previously unreleased tracks
and comes in a jewel case with full color artwork and poster booklet also
feat. the original front and back cover. First edition of 600 copies.
Total playing time: 49:18 min.
Asmus Tietchens ABFLEISCHUNG (Hamster Records HAM25) 1989
Festive music for the 3. Symposium of AKTIONSGEMEINSCHAFT PÄDOGAPHIE ALS
POST-NATALE GEBURTENKONTROLLE, Bad Bramstedt, 3.7.1977
1. Mineral 4     2'05
2. Drahtmensch 1  1'22
3. Modal 4   2'05
4. Drahtmensch 3    1'14
5. Ultima Terra     4'24
6. Modal 3  1'43
7. Ein fleißiges Insekt 3   1'04
8. Mineral 3    1'33
9. Modal 2  2'24
10. Ein fleßiges Insekt 5   1'04
11. Fago    2'30
12. Modal 5     2'19
13. Ein fleißiges Insekt 2  1'04
14. Mineral 2   4'05
15. Ein fleißiges Insekt 4  1'04
16. Mineral 1   4'59
17. Drahtmensch 4   1'39
18. Modal 1     0'48
19. Krytophonie 2   2'45
20. Gesichter von gestern   0'54
Bonus:
21. Kryptophonie 1   4'37
22. Zweite Sekunde  2'36
www.tietchens.de
Asmus Tietchens ABFLEISCHUNG (Hamster Records HAM 25) 1989
The short sketch-like tracks that appeared on ABFLEISCHUNG were my first
attempt to recycle old pieces of mine. This basic material originated from
recordings made between 1967-1970. As this period, 20 years ago, was already
history for me, it seemed reasonable to me to go back to the "old" music and
observe it under new aspects in order to create something completely new.
Right from the start I refused to use the term "Remix" for this project, as
"Remix" actually means to newly mix the separate components (tracks) of a
multi-track recording, and that's something I didn't do. The term
"Recycling" far better describes my way of working: not just a single track,
but the whole piece, is treated by a process which in its extremity will
change the track so radically it can't be recognized no more. Furthermore I
used different methods of treating the basic material, which resulted in
series of different recyclings ("Mineral 1-4", "Modal 1-5" ect.). While
working on these recyclings I intentionally took care that the length of all
tracks stayed fairly brief, as it was not so important for me to create new
pieces but rather to show the individual methods of my working.
VORGEHENSWEISEN.
I also wanted to avoid redundancy, as several pieces sounded too much the
same in my view. Furthermore my concentration on this short form forced me
to reconsider my approach to the length of pieces and the sonic events which
constitute them. All this resulted in consequences which for me still last
until today, but it was still a long way until the discovery of the general
pause (silence).
ABFLEISCHUNG is the second part of a four part series that was supposed to
be released in its entirety on Terry Burrows Hamster Records label. The
first part was the album WATCHING THE BURNING BRIDE (Asmus Tietchens + Terry
Burrows, HAM15, 1988); this album will also be re-released in the series on
Die Stadt. Following ABFLEISCHUNG there was THE WHISPERING SCALE  (Terry
Burrows, HAM26, 1990). Economical circumstances (once again !) prevented the
release of the Fourth and final part BURNING THE WATCHING BRIDE. This second
collaboration album was only released by the German label Disaster Area in
1998 (Terry Burrows + Asmus Tietchens, DA001, 1998). The graphic design and
typography on all four album covers were done by Terry Burrows.
Asmus Tietchens, 2008
Editorial notes:
The original tapes were already transferred to DAT back in 1997 for a
reissue project that never saw the light of day. The DAT was re-mastered for
this CD release. The bonus tracks were taken from the analogue master tapes.