A 106 Humoresken und Vektoren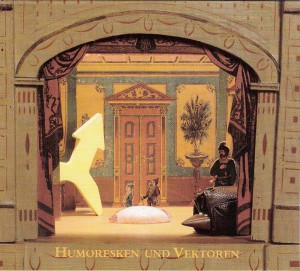 CD
aufabwegen • aatp45 • Germany 2014
500 copies
Tracklist
01 Besonders Ernste Musik 02'38"
02 Ernste Musik 07'14"
03 Sehr Ernste Musik 09'00"
04 Eingeschränkt Ernste Musik 05'06"
05 Gerade Noch Ernste Musik 05'26"
06 Kaum Noch Ernste Musik 10'30"
07 Keine Ernste Musik 04'57"
08 Im Ernst? (Für H.K.) 03'33"
09 Besonders Ernste Musik 02'38"
10 Ernste Musik 07'14"
11 Sehr Ernste Musik 09'00"
12 Eingeschränkt Ernste Musik 05'06"
13 Gerade Noch Ernste Musik 05'26"
14 Kaum Noch Ernste Musik 10'30"
15 Keine Ernste Musik 04'57"
16 Im Ernst? (Für H.K.) 03'33"
aufabwegen label info:
cd-audio
release date: 08.07.2014
artist:  ASMUS TIETCHENS
title: Humoresken und Vektoren
order no.: aatp45
Label code (LC): 01291
time: ca. 48:00 min
CD in full colour digipak with photos by Okko Bekker and Asmus Tietchens. Production: Okko Bekker. Recorded at Audiplex Studios Hamburg in 2012. 16 tracks of new material. 500 copies.
On "Humoresken und Vektoren"
"Humoresken und Vekotren" takes up a work that was started upon the invitation of Francisco Lopez for the spanish Störung label. The task was to deliver thirteen 2-minute original compositions for a compilation release. "Humoresken und Vektoren" recycles these miniatures from 2010 and undfolds it into eight new works having no resemblance with the original sourcings whatsoever. These eight tracks are bound together by eight short pieces entitled "Tristia" that function as bridges between the longer pieces. "Humoresken und Vektoren" is a combination of very dynamic and detailed sounds and a range of delicate layers and abstract textures. The CD features very surprising artwork unlike most recent Tietchens releases.