A 109 Harvestehude

Artists
Peinemann | Tietchens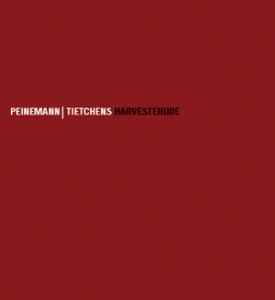 2xCD
aufabwegen • aatp53 • Germany 2015
500 copies
Tracklist
CD1: Hochallee
01 Hochallee 1 05'47"
02 Hochallee 2 02'19"
03 Hochallee 3 04'18"
04 Hochallee 4B 02'15"
05 Hochallee 5 04'18"
06 Hochallee 6 02'58"
07 Hochallee 7 05'45"
08 Hochallee 9 03'22"
09 Hochallee 10 01'58"
10 Hochallee 11 06'16"
11 Hochallee 12 03'14"
12 Hochallee 13 03'14"
13 Hochallee 14 03'28"
CD2: Klosterallee
01 Klosterallee 1 06'42"
02 Klosterallee 2 07'14"
03 Klosterallee 3 06'01"
04 Klosterallee 4 06'00"
05 Klosterallee 6 04'00"
06 Klosterallee 8 03'23"
07 Klosterallee 8A 03'30"
aufabwegen label info:
2x cd-audio
release date: 25.10.2015
artist:  ASMUS TIETCHENS/MARTIN PEINEMANN
title: Harvestehude
order no.: aatp53
Label code (LC): 01291
time: CD 1: ca. 53:00 mins., CD 2:  ca. 39:00 mins.
2 CDs in printed paper sleeves housed in carton slip case. Designed by Asmus Tietchens.
500 copies. Dedicated to C.V. Liquidsky.
On "Harvestehude"
After more than 10 years of enthusiastic experiences and encounters with so-called "Difficult Music" throughout the 1980ies Martin Peinemann and Asmus Tietchens deemed their somewhat differing approaches to making music compatible and agreed upon a loose collaboration in the year 1992. For various reasons (organizational and others) the work was not to take place at Audiplex studios but at Peinemann's home studio. This modest lab featured all the necessary technical equipment needed to realize noise music meeting the standards of the day. This included an analogue 4-track-tape deck (9,5 cm/sec, Dolby noise reduction, integrated 6-channel mixer), soon after a digital 8 channel multitrack, a powerful periphery and sound producing devices of all kinds. For "Hochallee", their first collaboration, Peinemann and Tietchens set trhemselves no definite deadline. The working sessions took place in an atmosphere of relaxation, usually on Saturday afternoons. By 1996 Peinemann and Tietchens finally had amassed a series of pieces they considered to be complete. At this time Peinemann began working on computer generated solo works and Tietchens moved on towards a more reductionist sound work.
"Klosterallee", their second collaboration, was realized under completely different circumstances. In the years gone by since their last work Peinemann had deeply immersed himself into the field of extreme digital sound manipulation that he often discussed with Tietchens. From this collection of sound structures Peinemann offered some to Tietchens as sourcings for further treatments. The following expanding of these structures was not done in the form of sessions but executed by Tietchens alone over a period of three months. Peinemann then authorised the final results.
Unlike Asmus Tietchens Peinemann never released any music until now. He always valued the working process higher than the working result. The reason for this collaboration to finally come out as a double CD follows a noble motif that can be roughly translated as such: "A warning to the Old, an instruction to the Young." (Friedrich Gottlieb Klopstock, "Pädagogische Ergetzungen", 1802).
www.aufabwegen.de
www.tietchens.de