A 112 Deflections

Artists
Fabio Perletta & Asmus Tietchens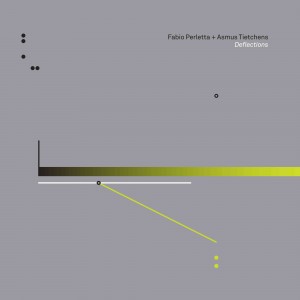 CD
aufabwegen • aatp59 • Germany 2017
500 copies
Tracklist
01 Deflection 1
02 Deflection 2
03 Deflection 3
04 Deflection 4
05 Deflection 5
06 Deflection 6
On "Deflections"
Fabio Perletta and Asmus Tietchens' hermetic micro-cosmos of Deflections unfolds by exploring instability and physical decay of sound. Built upon liminal forms and atonal passages, the six near-silent pieces of the work traverse empty space by means of elementary sonic emissions and drifting nano-structures. Among sound collisions and evanescent masses, the almost immaterial yet corporeal nature of Deflections, embodies sound in its most subliminal and contradictory form.
Fabio Perletta
Fabio Perletta creates immersive auditory fields that engage auditors to experience intimate and meditative states, using the sound as a vehicle for conceptual investigation and sensorial stimulation. Crossing the boundaries between pure electronics and musique concrète, his research is marked by a deep attention to details and use of silence and near-inaudible sounds. From recorded compositions and  sound diffusions to architectural interventions and installations, Perletta's work ranges widely, often referencing seemingly different yet complementary terrains such as Zen aesthetics and quantum physics. Perletta's solo and collaborative recordings are documented on LINE, Dragon's Eye Recordings, Auf Abwegen and his own imprint Farmacia901, which, since its establishment, has received critical acclaim and released works by the likes of Asmus Tietchens, Richard Chartier, Yann Novak, Nicolas Bernier, Luigi Turra, France Jobin and many more. He co-directs Mote, a Berlin-based interdisciplinary studio working in the field of visual and sound arts.
Asmus Tietchens
Tietchens was born in Hamburg in 1947. Since 1975 he has been working as an independent musician; in 1980 he released his first solo record Nachtstücke. After producing a series of rhythmic and harmonic albums for the Sky label in the early 1980s he released his first industrial record Formen letzter Hausmusik in 1984 on United Dairies. Here Tietchens articulated his musical interests clearly: everyday noises were treated and at times deformed beyond recognition and placed into new contexts. Until now Asmus Tietchens has released more than 80 albums on international labels where he continues to explore the posibilities presented to him by specific sound sources (ranging from water sounds to pure sine wave tones). He has a more rhythm-oriented fake band project called Hematic Sunsets. Tietchens' work is rooted in a deeply sceptic gesture, marked by frequent quotes from the works of philosopher E.M. Cioran on his album covers. Asmus Tietchens has been awarded with the prestigious Karl Sczuka Prize of the Südwestrundfunk (SWR) twice: in 2003 for his work Heidelberger Studien 1-6 and in 2006 for Trois Dryades. He lives and works in Hamburg.
www.aufabwegen.de
www.fabioperletta.it
www.tietchens.de