A 113 Arcs

Artists
Asmus Tietchens & David Lee Myers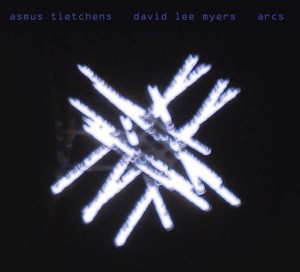 CD
aufabwegen • aatp63 • Germany 2018
500 copies
Tracklist
01 Arc 01
02 Arc 02
03 Arc 03
04 Arc 04
05 Arc 05
06 Arc 06
07 Arc 07
08 Arc 08
09 Arc 09
10 Arc 10
11 Arc 11
12 Arc 12
13 Arc 13
On "Arcs"
Asmus Tietchens and David Lee Myers have been collaborating since 1993. The dialogue continues to this day, with a new collection of 14 pieces entitled Arcs that were created over the past two years. Asmus Tietchens has molded the sourcings delivered by David Lee Myers into shapes and textures of abstract elegance and flowing transparence.
David Lee Myers
For thirty years, David Lee Myers (AKA Arcane Device) has been the leading producer of "Feedback Music", wherein sound processing devices are force-fed their own outputs via custom made matrix mixers, resulting in sounds ranging from melodious whispers to raging cacophony.  He has had thirty recordings released by Starkland, Cronica, Generator, ReR, Line, Silent, Pogus, RRRecords, Staalplaat, Monochrome Vision, and many other labels.  Collaborations have been produced with Gen Ken Montgomery, Thomas Dimuzio, Ellen Band, guitarist Marco Oppedisano, and Dirk Serries (VidnaObmana.)  Two Albums were created with legendary electronic pioneer Tod Dockstader, and with Hamburg's master sound manipulator Asmus Tietchens five projects have been released.  Myers has performed his sounds and visuals at New York's Generator, The Kitchen, Roulette, Experimental Intermedia, Knitting Factory, Clocktower, MoMA/PS1, Outpost Artists Resources, Trans Pecos and Silent Barn, as well as the San Francisco Electronic Music Festival and the Boston Museum of Modern art, among others.
Asmus Tietchens
Tietchens was born in Hamburg in 1947. Since 1975 he has been working as an independent musician; in 1980 he released his first solo record Nachtstücke. After producing a series of rhythmic and harmonic albums for the Sky label in the early 1980s he released his first industrial record Formen letzter Hausmusik in 1984 on United Dairies. Here Tietchens articulated his musical interests clearly: everyday noises were treated and at times deformed beyond recognition and placed into new contexts. Until now Asmus Tietchens has released more than 80 albums on international labels where he continues to explore the posibilities presented to him by specific sound sources (ranging from water sounds to pure sine wave tones). He has a more rhythm-oriented fake band project called Hematic Sunsets. Tietchens' work is rooted in a deeply sceptic gesture, marked by frequent quotes from the works of philosopher E.M. Cioran on his album covers. Asmus Tietchens has been awarded with the prestigious Karl Sczuka Prize of the Südwestrundfunk (SWR) twice: in 2003 for his work Heidelberger Studien 1-6 and in 2006 for Trois Dryades. He lives and works in Hamburg.
www.aufabwegen.de
www.pulsewidth.com
www.tietchens.de