09.09.2018 – Amsterdam concert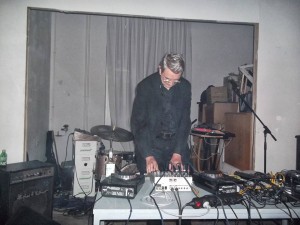 Asmus Tietchens will play his first Amsterdam solo concert in quite some time. It will happen on September 9th, 2018 at the nice cosy venue De Ruimte. The concert is part of a series called "Ruisburo" curated by Moving Furniture Records.
Here are the details of the evening:
Doors open 20:00, first performance 21:00. Entrance € 10 / Students/stadspas € 7*
*all proceeds go to the musicians.
ASMUS TIETCHENS (live)
Tietchens was born in Hamburg in 1947. Since 1975 he has been working as an independent musician; in 1980 he released his first solo record Nachtstücke.
After producing a series of rhythmic and harmonic albums for the Sky label in the early 1980s, he released his first industrial record Formen letzter Hausmusik in 1984 on United Dairies. Here Tietchens articulated his musical interests clearly: everyday noises were treated and at times deformed beyond recognition and placed into new contexts. Unti now Asmus Tietchens has released more than 80 albums on international labels where he continues to
explore the posibilities presented to him by specific sound sources (ranging from water sounds to pure sine wave tones). He has a more rhythm-oriented fake band project called Hematic Sunsets. Tietchens' work is rooted in a deeply sceptic gesture, marked by frequent quotes from the works of philosopher E.M. Cioran on his album covers. Asmus Tietchens is very outspoken about the
state of affairs in noise music and contributes essays on the subject in various publications. Asmus Tietchens has been awarded with the prestigious Karl Sczuka Prize of the Südwestrundfunk (SWR) twice: in 2003 for his work Heidelberger Studien 1-6 and in 2006 for Trois Dryades. He lives and works in Hamburg.
http://www.tietchens.de/
https://www.youtube.com/watch?v=VrRuxmhr9_Y
FANI KONSTANTINIDOU (live)
Fani Konstantinidou is a Composer, Sound Artist and Music researcher based in the Netherlands. Her work concentrates on emphasizing, analyzing, and exposing cultural and social elements through sound aiming at public communication through
music whilst exploring new compositional approaches. Since 2015, she works on her personal artistic project sound topographies: a series of compositions and live performances focusing on cultural identities and their implementation in experimental/electronic music.
https://www.fanikonstantinidou.com/
https://www.youtube.com/watch?v=veSDbYhAwsc
DJ ZIPO (dj set)
DJ Zipo [Aufabwegen] plays a set of ambient/field recording/noise collages.
DJ Zipo is Till Kniola, who runs the aufabwegen label and mailorder, curates sound events in Cologne and at festivals and who regularily writes about music and sound.
He collaborates closely with German electronic music pioneer Asmus Tietchens, publishing the first comprehensive monography about the composer's work.
http://www.aufabwegen.de/
#RUISBURO SEASON 2018/2019
0: Ruisburo: Orphax' Birthday + Roald van Dillewijn
1: Ruisburo: Asmus Tietchens – Fani Konstantinidou – DJ Zipo