06.09.2018 – Bochum concert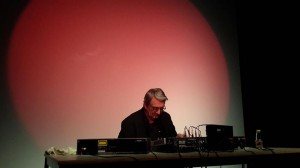 Asmus Tietchens will play a solo concert in Bochum on September 6th, 2018 at 19.30h. The concert takes place at the venue Trinkhalle in Herner Str. 8, 44787 Bochum, Germany. The entrance is free! There will be a DJ set by DJ Zipo [aufabwegen] too. The concert is organized as a kind of prequel to the festival BLAUES RAUSCHEN which takes place mid October in the Ruhr area.
Here is the info on the evening (in German):
BLAUES RAUSCHEN. NEU. IN BOCHUM.
Das Fest vor dem Festival | Eintritt frei
Ein Amuse-Gueule auf das fünfgängige Fest(ival)menu Blaues Rauschen, kredenzt vom Veranstalter open systems e. V., in Deiner Trinkhalle.
Das ruhrgebietsweite Festival feiert Bochum als neuen Austragungsort mit einer Preparty vor dem Start im Oktober.
Elektronik-Pionier Asmus Tietchens veröffentlicht sein neues Vinyl-Album "Strophen", und seine Tour führt den Hamburger schnurstracks in die Herner Straße. Geräusche und Musik zwischen analog und postdigital.
Eingerahmt wird das Konzert von DJ ZIPO [Aufabwegen] mit seinen Ambient-Sounds, Field Recordings und Noise-Collagen.
Blaues Rauschen, das multiurbane Festival für elektronische Musik, Soundexperimente, Installation, Performance und Tanz.
Vom 10.10.2018 bis 14.10.2018 in Gelsenkirchen, Essen, Herne, Dortmund und Bochum. Mit Amnesia Scanner, Lorenzo Senni, Lucrecia Dalt, Jan Jelinek, PERFORATOR, Ryoko Akama, Kai Niggemann u.v.m.
Tickets und Programm unter www.blauesrauschen.de