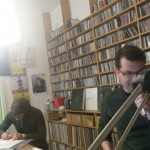 Till Kniola was invited into the October edition of the regular a-musik programme at dublab.de radio to give a little introduction and overview of the aufabwegen label.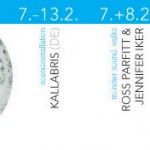 07.-08.02.2015 aufabwegen präsentiert: -- Geräuschwelten Festival 2015 --
Präsentiert von aufabwegen + StadtRevue 05.07.2009, 20.30h sonic objects #3 Marc Behrens Radu Malfatti + Lucio Capece vs. Luigi Nono Kulturbunker Mülheim Berliner Str. 20 – 51063 Köln sonic objects ist ein Veranstaltungsformat, in welchem die komponierte elektroakustische Musik auf die zumeist frei gespielte oder improvisierte, vorwiegend aus dem popmusikalischen Kontext stammende Laptop-und Geräusch-Musik trifft....