Do. 04.06.2009,
Einlass: 20.00h, erstes Konzert: 20.30h
Tickets: 12 & 10 Euros
aufabwegen präsentiert: Geräuschwelten Festival
MICHEL HENRITZI + JUNKO
 (the screaming voice of HIJOKAIDAN meets french improv guitar player)
&
COLUMN ONE
(90%Wasser, aufabwegen, Berlin: dada-performance)
&
STRØM
(Bern, CH Bassklarinette und Live-Elektronik)
&
HERIBERT FRIEDL
(nonvisualobjects, ultra-minimal digital ambience)
Stadtgarten
Venloer Str. 40, 50674 Köln
Die nächste Ausgabe der Geräuschwelten-Reihe ist zu einem Festival ausgewachsen; welches verschiedensten Strömungen der Geräuschmusik ein Forum gibt.  Besonders gespannt sein darf man auf die Deutschland-Premiere des Duos Michel Henritzi an der Gitarre und Junko, die Kreisch-Performerin und Frontfrau der japanischen Noise Band Hijokaidan. Column One, das Dada-Kollektiv aus Berlin, wird eine Multimedia-Performance präsentieren, welche das Publikum überraschen wird. Das Schweizer Projekt Strøm wird seine pulsierende Klangflächen mit Klarinette und Elektronik auf die Bühne bringen und der österreichische Musiker Heribert Friedl wird fragile Soundminiaturen aus seinem Laptop zaubern. Ohren auf! Geräuschwelten wird gefördert durch das Kulturamt der Stadt Köln und ProHelvetia – Schweizer Kulturstiftung.
   
Künstler-Informationen
MICHEL HENRITZI + JUNKO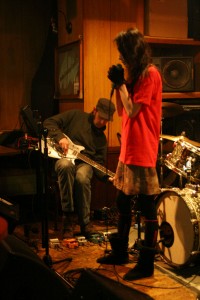 JUNKO "Sleeping Beauty" Elevage de Poussière. EPP09 LP
In October 2002, I met the Japanese noise band Hijokaïdan's singer whose name is Junko and that came after having abruptly listened to "No Paris, No harm" (album issued on the Alchemy label) about fifteen years sooner in an importing record shop. A record of such a radical exotism that it made tip up entire sections of my record collection directly into pop anecdotism, a literal rip of the hearing as, deeply tattooed in the wax,  there was standing up this danger which was called, à corps et à cris, by the wild boys from London, Paris, Tokyo or Detroit. A black hole was growing up and what a good place to fall in. 1969, 1977 – back to the future -, a sleeping beauty torn from their scars as a wide  opened wound to our times.
An incarnated scream into the fragile body of this woman standing in front of us, on the other side of the glass of the recording studio cabin. A smile – cut – her voice as if it was switched "on", she looks lost in her swallow holes but is doing it easy as she was just snapping her fingers. She seems yet impassive and still when facing the microphone as if she was detached from her scream, out of reach, as if her voice was unglued and apart from a body leading its own story. Screams, howlings from her expulsed voice as an "out of" but into the night and the brouillard of noise. A looped scene from an horror film, her opened mouth filling the frame, long scream – cut – black. An hysterical no-diva reeling off a story about the unspeakable for some unspeakable monsters might have filled her childish nightmares, if not why these screams?
Such a fucking poetry of the gap, something very close to Yoko Ono's orgasmic vocalisations, to Diamanda Galas menstrual glossolalias, to Linda Sharrock's sexual negritude. What a free from the ritornello free music, what a totally free chant, so let the listener go through to it and let him free to listen to "that". To that psychanalists's id, to the trouble Eros, to the perforated tongue from the pornographic body. It surely takes a lot of perversity to get submitted to that. To that improbable soundtrack from a porno film  which would look like some inverted movie, like some black pictures. It surely takes a lot of terror to listen to that voice but you may call it beauty. Because that voice deals with some wonderful confusion (something between pleasure and pain), that indiscernible space due to the man who lays upon a woman. A frightening paroxystical flow. Almost endless quavering deep into the dyslexic monstrous climbing up to inhuman shrills voice, held close by the auditory pain. Her chant as a desiring machine one more time building up some unspeakable, some terror so. A chant coming from the pleased or from the suffering body.
Junko made a poem out of the scream which gets the atom particles speed and its dread too that is grinding both the word and the meaning. Hop ! Got free from the semiotic chain, as the rising of an organless body among the small world of music – try to imagine the neighbourhood terror – but imagine that this scream was calling us : did you hear something ?
Since all that, I am listening to Hijokaïdan in a loop for techno has not yet discovered the power of the overthrow from the noise sound but just only its metric, its nights sequencing and its wall paper function. Here it's a buoying and final outing of the chill out.
Michel Henritzi (December 2002)
translation : Jacques Debout
Michel Henritzi
Michel Henritzi – guitar, lapsteel, amp, percussions, turntable, walkman, field recordings …
Guitar played from abstract blues to noise. A tribute to : American primitive music and Enka music, like feedback(s) and shadows.
Member of bands : Dustbreeders (with Yves Botz and Thierry delles) and Howlin'Ghost Proletarians (with Fabrice Eglin)
Had played with : Tetuzi Akiyama, Rinji Fukuoka, Kumiko Karino, Jojo Hiroshige, Junko, Masayoshi Urabe, Chie Mukaï, Tamio Shiraishi, Mico, Yukiko Nakamura, Masafumi Ezaki, Taku Sugimoto, Shin'ichi Isohata, Toshimaru Nakamura, Ito Atsuhiro, Fumio Kosakai, Kiyoharu Kuwayama, Tetsuo Furudate, Ami Yoshida, Mattin, Miguel Prado, Ivar Grydeland, Quentin Dubost, Bruno Fernandes, Nicolas Moulin, Aya Onishi & the Nihilist Spasm Band.
Had played in France, Japan, Switzerland, Belgie, Germany, England, Neederland, Portugal, Spain, Danemark and Ireland.
Discography (Auswahl):
Michel Henritzi, Junko, Masayoshi Urabe "Ecstasy of the Angels" CD – Opposite (usa) 2009
Michel Henritzi "Shinjuku Blues & Whispering Shadows", CDR – Dyin'Ghost records (fra) 2009
Michel Henritzi, Junko, Aya Onishi, Rinji Fukuoka "Live", CDR – Anarchives (fra) 2008
Michel Henritzi, Junko, Mattin "Je t'aime!" CDR – Absurd (greece) 2008
Michel Henritzi, Shin'ichi Isohata, Xavier Charles "duo(s)" CDR – o-musubi (japon) 2008
Michel Henritzi, Tetuzi Akiyama "broken blues" CDR – absurd (greece) 2007
Michel Henritzi (feat. Bruce Russell, Taku Unami, Shin'ichi Isohata, Mattin) " Keith Rowe serves Imperialism " CD – wmo/r (eusk) 2006
Michel Henritzi, Rinji Fukuoka, Kumiko Karino " Live at U.F.O Club " DVD- There (japon) 2006
Michel Henritzi / Brandon Labelle / Minoru sato / Guiseppe Ielasi / Achim Wollscheid " Social Music " Book + CD – Errant Bodies (usa) 2002
Howlin'Ghost Proletarians " The Singer " CDR – Absurd (greece) 2006
Howlin'Ghost Proletarians " Dead Roads " CDR – Absurd (greece) 2004
Dustbreeders / Guilty Connector " Bells " CDR – Utsu Tapes (japon) 2003
Dustbreeders & Junko " Mommy Close the Door " CD – Starlight Furnitures (usa) 2003
Dustbreeders " Le Proces Cannibal " LP – Elevage de Poussière (France) 1999
Column One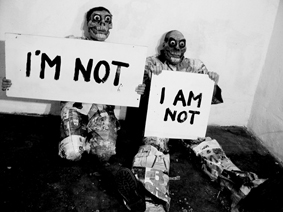 Column One
– gegründet 1992 von Robert Schalinski, Rene Lamp & Eike Bölling in Berlin als ideologische Basis der Auseinandersetzung mit Strukturen, Philosophien & Medien
– Rene Lamp & Robert Schalinski arbeiteten bereits in den vorangegangenen Jahren an Kurzfilmen in Potsdam
– Einfluss auf die Gründung & Arbeit: Jugendlicher Leichtsinn, Radikaler Konstruktivismus, div. Cut-Up Methoden, DADA etc..
– Mittel: Verwerten, Zerschneiden & Entschlüsseln von dem, was wir uns als REALITÄT (tagtäglich) vorsetzen.
– Column One operates as collective. Besides the founding members a changing amount of various members circulates from project to project: Jerôme Soudan (Mimetic), Wojcek Czern (Zia Siodma Gora), Leo Solter (Kein Zweiter, Tornow), Hermann Bohlen, Peter Hollinger, R.U.Brain-Bridge…
– Column One is part of Methods To Survive Net.
– Collaborations with: Artefakt Mag., Jürgen Ploog, Genesis P-Orridge (Psychic TV, Throbbing Gristle), Tochnit Aleph (No is E etc.), Never Mind The World, Rex Joswig (H.I.P.), Quasister(PL), Pawel Koslowski (Miasto Nie Spalo), Marc Weiser (Rechenzentrum), Silksaw etc.
1991
– "Column" First exhibition with b/w photography & video installation in Bautzen (D)
1992
– Andrew Loadman joined the group
1993
– "Various Dreamdances" Performance, Video-installation, Exhibition in Potsdam (D)
– CO found the label: A.N.Column Release
– several releases & concerts
1994
– "Kriegsschauplätze" Exhibition, Video-installation, Performance, Festival Potsdam (D) ..feat. Contrastate, Edward Ka-Spel, Netzach, Leo Bullfrog, Za Siodma Gora, Rongwrong, Hafler Trio etc..
– several releases & concerts
1995
– "Das Individuellen Syndrom" Exhibition, Videoinstallation, Potsdam (D)
– Column One brought the network METHODS TO SURVIVE
– CO found the label: Cut-Up-Constructions Rec.
– several releases & concerts
1996
– Mr. Brain-Bridge joined Column One as grafic-designer & …
1997
– Aurika Kaja of Borrn joined Column One for some concerts
1999
– Premiere of "File Under Homo sapiens" in Berlin – film by Column One
– several releases & concerts
2000
– Artist in Residence in PODEWIL / Berlin
– Video-premiere of "BRAUNSERVER" in Berlin
– "Electric Pleasure" – video-installation, concert, exhibition, Berlin
2001
– Column One & other artists start "90%WASSER" (non-profit) Art-is-t label based in Berlin
– several releases & concerts
2002
– Jürgen Eckloff joined Column One
2004
– Opening of Die Sibirische Zelle, Berlin
STRØM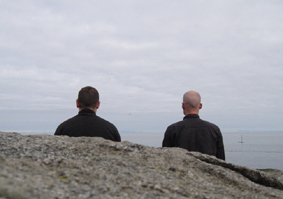 Gaudenz Badrutt, Pianist und Elektronikmusiker (*1972) und Christian Müller (*1971), Klarinettist, elektronischer Musiker und Komponist. Beide studierten an der Hochschule für Musik und Theater Bern/Biel und sind doppelt diplomiert. Die kontinuierliche und langjährige Zusammenarbeit der beiden Musiker hat zu einer äusserst persönlichen musikalischen Sprache des Duos geführt. In ihren Performances spiegelt sich im Prozess der Klangsuche eine besondere musikalische Qualität wieder, welche einen auffallend instrumentalen Charakter im Umgang mit elektronischen Mitteln aufweist. Die beiden Bieler Musiker verbinden verschiedene musikalische Ingredienzen: elektro-akustische Improvisation trifft auf Konzeptmusik, Ideen Neuer Musik auf Noise-Ausbrüche, dichte Klangwände auf minimalistische Klangcollagen.
Neben der Konzerttätigkeit im In- und Ausland (u.a. am Taktlos Festival Bern, Norbergfestival, Transmediale Berlin) – im Duo wie auch mit anderen Musikern (Hans Koch, Martin Schütz, Burkhard Beins, Clayton Thomas, Urs Leimgruber, Jacques Demierre, Tomas Korber…) – betätigt sich strøm auch im Rahmen von Theatermusik (Stuttgart, Wien, Bern, Dresden, Mainz) und Installationen. 2004 gewannen sie als erstes elektronisches Ensemble den 1.Preis am Concours de Reding, dem Improvisationswettbewerb des Schweizerischen Tonkünstlervereins, 2006 verbrachte sie ein Werksemester auf der nordnorwegischen Lofoteninsel Vestvågøy.
HERIBERT FRIEDL
born in Feldbach / Austria
1994 – 1998 University of Applied Art in Vienna
lives and works in Vienna
Heribert Friedl lives in Vienna, and studied sculpture at the University of Applied Arts there. In his exhibitions he has been working with scents and its non visual phenomenons – sometimes in combination with sounds.
He has had exhibitions, soundperformances and projects in cities of Hungary, Germany, England, Italy, USA, Cuba and Austria.
After more mp3-releases and albums on labels trente oiseaux and and/OAR he founded his label nonvisualobjects with Raphael Moser in 2005. The label releases works by such renowned minimalist artists as Steve Roden, Richard Chartier, Roel Meelkop, Bernhard Günter, among others.
exhibitions/concerts/performances/releases …
2008
"soundscapes"; laden/lothringer13, munich, germany
"soundperformance"; hörbar, freiburg, germany
"soundperformance"; cinema oblò, lausanne, switzerland
"soundperformance"; postgarage, graz, austria
"zeigen. eine audiotour von karin sander"; kunstverein arnsberg, germany
"graceful degradation: variations"; CD-release, sourdine, usa
"fokus bibliothek. focus library"; exhibition, stift admont, austria
"scholarship and soundperformance"; steim institute, amsterdam, netherlands
"soundperformance"; hoet bekaert gallery, gent, belgium
2007
"TRAC[K]_T"; CD-release, line, usa
"portraits of soundartists"; book+2CD, nvo, austria
"back (excerpt)"; on The Wire tapper of the October issue of The Wire (#284)
"soundperformance"; elak gala, brut-konzerthaus, vienna
"surfacesobjects"; exhibition, galerie im traklhaus, salzburg
"soundperformance"; gallery skolska 28, prague, cz
"alula ton serien"; soundperformance (+ asmus tietchens), galerie für zeitgenössische kunst leipzig, germany
"geräuschwelten"; soundperformance (+ asmus tietchens and richard chartier), cuba, münster, germany
"segmente"; soundperformance (+ longmo), kunstraum walcheturm, switzerland
"tonspur"; nvo_label presentation, museumsquartier, vienna
"ich fühle was, was du nicht siehst. kunst zum begreifen"; exhibition, stift admont, austria
"ultrahang-festival"; soundperformance, budapest, hungary
"GeoPhonoBox: Sonic surveys of Place"; exhibition, around the coyote gallery, chicago, us
2006
"Förderungspreis des Landes Steiermark"; Neue Galerie Graz (catalogue)
"back_forward"; CD-release, nvo, austria
"trans~"; CD-release; in collaboration with bernhard günter, nvo, austria
2005
"bradycard"; CD-release, nonvisualobjects, austria
"ataraxia"; CD-release, trente oiseaux, germany
"amalgam / dale lloyd and various artists"; CD-release, con-v, spain
"cascade"; soundinstallation, leerraum [] progr bern, switzerland
"garage festival"; soundperformance, stralsund, germany
"klangomat"; kunstmuseum bern/künstlerhaus solothurn/leerraum, switzerland
"on the spur of the moment"; raum, bologna/italy
"mavi[verse]"; bread & butter fair, berlin
2004
"Eigensinn und Eigensicht"; österreichisches kulturforum, prague
"Eigensinn und Eigensicht"; altes rathaus, brno
"21. künstlerbegegung"; stift st. lambrecht
"sonic network analysis – stage01"; stasisfield
"de valigia (kunstkoffer)"; kunstwerk krastal, einoede bei villach
"Neuerwerbungen für die Sammlung 2002/2003"; Neue Galerie Graz
2003
"wheeling, london "; cell-project space, London
"in one room and a half"; kArton gallery, Budapest
"audiovisuell"; te huur 3, Vienna
"danke für die illusionen"; grat/beckmanngasse 52, Vienna
"EX graz"; Minoriten Galerien Graz Minoriten
"wheeling! motorcycles in ar"t; post gallery / los angeles
2002
"Neuerwerbungen für die Sammlung"; Neue Galerie Graz
"transcommunication"; dietheater künstlerhaus, Vienna
"BerlinWallPaintings"; artfrankfurt
 "de valigia"; museum la terra e l´uomo, Crocetta del Montello (Italy)
"WHEELING! – Krad Kult Tour"; Galerie Jette Rudolph, Berlin
"wheeling – motorcycles in art"; Ausstellungsraum de ligt, Frankfurt/Main
"K.U.L.M.ination"; Kunsthalle Exnergasse Wien, steirischer herbst 2002
2001
"Einsiedler-Vorübergehend"; Museum Folkwang Essen (catalogue)
"Heribert Friedl"; Kunstverein Arnsberg (soloshow), (folder)
"inhabiting the border"; Bruce Castle Museum, London
2000
"Wurf at home"; (WURF-Performance), Diagonale 2000, Thalia, Graz
"KulturLOS"; öffentliches Projekt, Vienna (catalogue)
"hearing #10"; (WURF-Performance), Iftaf, Vienna
"Flower:Art:Show"; Galerie Schafschetzy Studio, Graz
"de valigia"; centro provincial de artes plasticas y diseno, Habana, Kuba
"Eigensinn und Eigensicht"; Galerie Museum auf Abruf, Vienna (catalogue)
1999
"music is not art"; Forum Stadtpark, Graz
"global-sculpture-project"; New York City
"hearing #4″; (WURF-Performance), Iftaf, Vienna
"3000 U/min – die drehbare Musikausstellung"; im Riesenrad, Vienna
"radio helsinki"; (WURF-Performance), steirischer herbst 99
"apartment21″; Heiligenstädterstrasse 123/21, Vienna
"Förderungspreis des Landes Steiermark"; Neue Galerie Graz (catalogue)
1998
"7 nights gallery"; Galerie station 3, Vienna
"de valigia"; Kunstzug fährt durch elf Staaten Europas (catalogue)
"Heribert Friedl"; Ecksaal des Joanneums, Graz (soloshow)
"Diplomausstellung"; HS für angewandte Kunst, Vienna
"Würst´lbauten"; (WURF-Performance), Posthof, Linz
"Projekt-LUFT"; K.U.L.M., steirischer herbst 98 (catalogue)
"kunst wien 98″; mit Ausstellungsraum Mezzanin, MAK, Vienna
"Kompression"; Schallautzerstraße 4, Vienna
1997
"Fischhalle" (WURF-Performance); ehem. Alpenmilchzentrale, Vienna
"vier x² + vier x³"; Ausstellungsraum Mezzanin, Vienna (folder)
"gruppenaufnahme"; Museumsquartier Halle D, Vienna