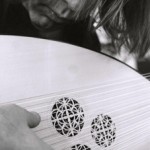 Mi. 09.09.2009,
Einlass: 20.30h, Konzert: 21.00h
aufabwegen präsentiert: Geräuschwelten
JOZEF VAN WISSEM
(Laute experimentell; think John Fahey; think Sir Alan Bishop; NYC/NL)
&
DJ Georg Odijk
(A-Musik, Köln)
at
King Georg
Sudermannstr. 2, 50670 Köln
Eintritt 6 EUR
Der niederländische aber mittlerweile in New York lebende Lautenspieler Jozef van Wissem hat durch seine exzentrische Spielweise diesem Instrument zu neuer Anerkennung in der OFF-Szene verholfen. Van Wissem spielt die Laute so, wie John Fahey oder Sir Richard Bishop ihre Gitarren: zarte Pickings, rauschende Akkordfolgen und absolut freie Entfaltung der tonalen Möglichkeiten werden angestrebt. Jozef van Wissem hat bereits Alben mit Tetuzi Akiyama und James Blackshaw eingespielt, verehrt wird er u.a. von Thurston Moore oder dem britischen Wire Magazin. Seine letzten beiden Alben erscheinen auf dem wichtigen US-Avantgarde-Label Important, ansonsten bringt van Wissem seine Musik (und die befreundeter Künstler auf seinem eigenen Incunabulum Label in schönen Siebdruck-Covereditionen heraus. Ohren auf! Geräuschwelten wird gefördert durch das Kulturamt der Stadt Köln.
Infos:
www.geraeuschwelten.de
www.myspace.com/vanwissem
www.kinggeorg.de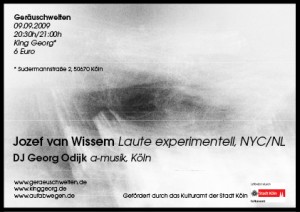 —————-
Informationen
JOZEF VAN WISSEM – Laute
BIO
Composer-lute player Jozef Van Wissem is renowned for his unusual approach of the Renaissance and Baroque lute, probably the most unlikely instruments in the world of contemporary music. He cuts and pastes classical pieces, reverses melodies, adds electronics and processed field recordings The unusual wedlock of composition and improvisation creates an unheard amalgam of contemporary, folk and early music Van Wissem has accomplished the strange feat of bridging the idiom of seventeenth century lute literature and twenty-first century contemporary music Although he uses subtle electronic sound manipulation, he has largely stayed faithful to the particular timbre, resonance and playing technique of the lute. Van Wissem first came to be noticed a few years ago because of his radical conceptual approach to Renaissance lute music: He deconstructed existing compositions, for instance by playing them backwards. He also composed his own pieces for lute, using palindromes and mirrored structures. His music therefore does not have a traditional linear progression, nor leads to a climax, it rather stays on the same level of intensity. His music is not so much demands concentrated listening, as it will bring the listener in a state of concentrated listening. He runs the Incunabulum label, and performs extensively around the world. He also works with M.B. / Maurizio Bianchi, James Blackshaw and Tetuzi Akiyama.With Blackshaw he formed the duo " Brethren of the Free Spirit' which has two releases on Important records. Wire Magazine called his solo lute cd " Stations of the Cross " a small masterpiece. . He has lectured a.o. at Wesleyan Universtity, Mills College and Cambridge University on 'the liberation of the lute". Van Wissem has received numerous commisions and grants, most recently from National Gallery, London . He performs about 80 concerts per year around the world and  has appeared live on national  tv and radiostations, twice on the Dutch Vrije Geluiden Vpro TV show and has performed at prestigious festivals and venues like Expo Zaragoza 2008, Spain, Kr-aa-k Festival , Belgium, ZXZW Festival, Holland, Sonorités Festival, France, Serralves em festa Festival, Portugal, Seattle Improvised Music Festival, Suono Per Il Popolo Festival, Montreal, Sintra Music and Dance Festival, Portugal, Byzantine Fresco Museum, Texas, I.C.A, London, and Glasgow, Schindler House, Hollywood,.
DISCOGRAPHY:
2009:  It is all that is made  CD/LP( Important records)
2008:–- Brethren of the Free Spirit ( Duo with James Blackshaw)- The Wolf also shall dwell with the Lamb CD/LP  ( Important Records)
           – A Priori CD/LP (Audiomer 003/ Incunabulum 009)
           -"The Garden of Forking Paths" – (Important Records)
-"Brethren of the Free Spirit" –  All things are from Him, through Him           and in Him LP/CD ( Audiomer 001)
2007 – Jozef van Wissem and Tetuzi Akiyama – Hymn for a Fallen Angel (Incunabulum 003)
           – Stations of the Cross (Incunabulum 004)
2006 – A Rose By Any Other Name, Anonymous Lute Solos Of The Golden Age (Incunabulum 001)
2005 – Objects in Mirror are closer than they appear (BVHaast 0905)
2004:   – Gary Lucas and Jozef Van Wissem – The Universe of Absence (BVHaast 0105); The Wire Tapper 12, Wire Magazine CD compilation;
           – Tetuzi Akiyama and Jozef van Wissem- Proletarian Drift (BVHaast) 
2003  – Simulacrum (BVHaast 0104)
2002  – Gary Lucas and Jozef van Wissem – Diplopia (BVHaast 0103)
2001  – Narcissus Drowning (Persephone 003)
2000  – Retrograde(Persephone 002)