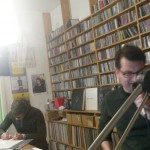 Till Kniola was invited into the October edition of the regular a-musik programme at dublab.de radio to give a little introduction and overview of the aufabwegen label.
Mi. 01.12.2010, Einlass: 20.00h, erstes Konzert: 20.30h Eintritt: AK 10 /  VVK 8 EUR aufabwegen präsentiert: broken sound #6 ARANOS (CZ/IRE) Gypsy Zen from this Nurse With Wound collaborator! & HELENA GOUGH (UK) Entr'acte, hyper-active sonic deconstructions & EVAPORI (D) Walter Ulbricht Schallfolien, analoge Haushaltsatmosphäre Stadtgarten Venloer Str. 40, 50672 Köln Die sechse Folge der...
~ 22.05 – 24.05.2010: S T E P P I N G  I N T O  T H E  D A R K ~ aufabwegen was invited by the prestigious Moers Festival to curate a series of small concerts to be held in total darkness. In a respectful bow to the work of field recordist Chris...