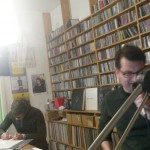 Till Kniola was invited into the October edition of the regular a-musik programme at dublab.de radio to give a little introduction and overview of the aufabwegen label.
Fr. 25.05.2012, Einlass: 20.00h, erstes Konzert: 20.30h, 10 € aufabwegen präsentiert: Geräuschwelten #64 PIERRE BASTIEN (Toy instruments, Rephlex) & SETH NEHIL (Field recording compositions, USA) & K11/ PIETRO RIPARBELLI (sounds from old caves & catacombs) Black Box/cuba Achtermannstr. 12, 48143 Münster Heute wird es verspielt in der Reihe Geräuschwelten. Mit dem Franzosen Pierre Bastien kommt...
Sa. & So. 26. & 27.05.2012 jeweils 17.30h – 20.00h Eintritt frei! aufabwegen präsentiert: ~ Hidden Currents ~ Die Konzerte im Dunkeln im Rahmen des moers festivals 2012 20-minütige quadrophonische Konzerte in völliger Dunkelheit von: JOHN DUNCAN (USA/IT) SETH NEHIL (USA) LASSE-MARC RIEK (D) K11/PIETRO RIPARBELLI (IT) RONNIE SUNDIN (SE) Studio/Schlosstheater Moers Kastell 6, 47411...