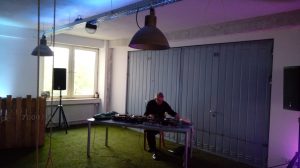 German sound pioneer Asmus Tietchens will play a string of concerts in early September 2018. As a standard for his live appearances Tietchens will present a mix made out of sketches, ideas and unfinished tracks from the studio, thus making every concert a premiere. Asmus Tietchens will be joined by DJ Zipo [aufabwegen] who will play experimental DJ sets before and after his concert.
There will be an aufabwegen record stall at all concert nights.
Here are the details:
06.09.2018, 19.30h – Asmus Tietchens, DJ Zipo at Trinkhalle, Bochum, Germany. The concert is a prequel to the BLAUES RAUSCHEN festival. Free entrance!
https://www.facebook.com/events/228039124552337/
07.09.2018, 21:00h – Asmus Tietchens at Meakusma Festival, Eupen, Belgium. Also performing on that night are Radian, Andrea Belfi, Hanosch, Peter Brötzmann & Heather Leigh and many more. DJ Zipo plays a set at 19.30h.
http://www.meakusma-festival.be/
08.09.2018, 21.00h – Asmus Tietchens, DJ Zipo at Table Dance, Antwerp, Belgium. Hosted by Entracte to celebrate the release of a new Tietchens CD "Stenogramme, zweite Folge".
http://www.entracte.co.uk/events/
https://tabledance.be/calendar
09.09.2018, 20.00h – Asmus Tietchens, Fani Konstantinidou, DJ Zipo at De Ruimte, Amsterdam, The Netherlands. Part of the concert series Ruisburo curated by Moving Furniture Records.
https://www.facebook.com/events/210188499699208/
See you there!