Mo. 09.11.2009,
Einlass: 20.00h, erstes Konzert: 20.30h
aufabwegen präsentiert:
broken sound
SoiSong
IVAN PAVLOV (COH) + PETER CHRISTOPHERSON (Throbbing Gristle, Coil, Psychic TV)
&
Sten Hanson
(Stockholm, text-sound performance)
&
Bernd Schurer
(domizil, CH crashing particles)
Stadtgarten
Venloer Str. 40, 50674 Köln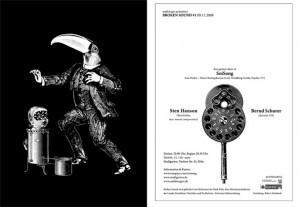 Mit "broken sound" startet eine neue Reihe im Stadtgarten, die sich ganz der Welt der Geräusche widmet. Gleich zwei Sensationen gibt es zum Auftakt zu vermelden! Peter "Sleazy" Christophersons neues Projekt SoiSong (gemeinsam mit Ivan Pavlov) wird zur Deutschland-Premiere nach Köln kommen. Für alle, die sich auch nur am Rande für experimentelle Musik interessieren ist Christopherson eine echte Ikone. Er hat mit Throbbing Gristle die Industrial Music erfunden, mit Coil wegweisende okkult-psychedelische Electronica geschaffen und in den 1970er Jahren grandiose Plattencover für Pink Floyd, Wings und andere. Größen gestaltet. Der schwedische Komponist Sten Hanson, von dem eine Komposition namensgebend für die Reihe war, wird ebenfalls ein seltenes Gastspiel in Köln geben. Er war Zeitgenosse von Cage und hat in den 1960er Jahren eine von Dada inspirierte Sound Poetry Szene mit initiiert. Schließlich gibt es noch ruppige Komputermusik mit K aus der Schweiz zu hören: Bernd Schurer, der Labelchef von domizil wird zerbrochene Satievexationen präsentieren. "broken sound" wird kuratiert von Till Kniola/aufabwegen. Es ist angerichtet!
broken sound wird gefördert durch das Kulturamt der Stadt Köln und ProHelvetia – Schweizer Kulturstiftung.
SoiSong
www.myspace.com/soisong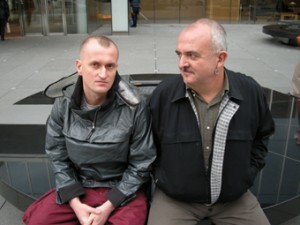 SoiSong is a new proect by Peter Christopherson (Coil;Throbbing Gristle)and Ivan Pavlov (COH)
Primarily located on the Eastern Pacific Rim,SOISONG will debut in Japan in March 2008,closely followed by Bangkok,and Singapore,but the band plans also to make some rare appearances in Europe during May June July.
They would also play in other regions of space late 2008 and into 2009,if invited by a serious institution.
The two-man show will combine Ivan's uncompromisingly-visceral computer based music with Christophersons decadent,dark and whimsical approach to artificial vocals and "South Seas2 instrumentation…
The power and energy of Youth and the Russian Scientific Establishment with the filth,decay and corruption of English Maturity. SoiSong has been brewing for months in the gloomy Soi's,or alley-ways,of Bangkok ,the world's most uninhibited Capitol city,where unlocked i-phones,hi-speed broadband,young brown flesh,and indeed Life itself,all come cheap.
Where the voices heard in the dark,across the heaving shanty towns,creaking over running sewers,mingle the agonised cries of teenagers losing their virginity,with Revered Monks'dying Invocations.
SoiSong's first ep SOI-JIN-NO-HI will be available for free download from http://www.thresholdhouse.com/
from March 2008 on and will come in a Collector's Specially Packaged edition, exclusively from the band at shows.
Sten Hanson
Born: April 15, 1936 – Klövsjö, Sweden
The Swedish composer, Sten Hanson, was leader of the Fylkingen language group from 1968 and in charge of the Text-Sound Festivals which were held for many years. He is self-taught as a composer. In Sweden, he was Director (1968-1977) and then Chairman (1980-1984) of the concert organization Fylkingen, chairman of the ISCM (1975-1981), member of the Royal Academy of Music of Sweden and President of the Swedish Composers' Union (1985-1994), member of the Executive Committee of International Confederation of Electroacoustic Music (ICEM) (1981-1982) and Chairman of this organization from 1997 to 2002. He has been member of College compositeur de GMEB from 1982, member of the Executive Committee of the International Society for Contemporary Music (ISCM) from 1982, member of the Executive Committee of the Electronic Music Studio, and Chairman of the Society of Swedish Composers (1984-1994).
Sten Hanson has been working with experimental music, literature and art since the beginning of the 1960's, cultivating both instrumental, vocal and electro-acoustic music for performance on radio and television, on outdoor occasions or from the concert platform. From an early stage he was aware of the importance of tape-recording techniques in the renewal and development of poetry's resources. Text-sound-visual image, often combined with intensely personal 'live" performances, are vital ingredients in Sten Hanson's artistic workmanship and he is ore of the forerunners in the field of multi-media art. He himself has been on numerous performing and lecturing tours all over the world. He was quick to realise the importance of the tape recorder as a factor in the renewal of poetry and the ability of text-sound compositions to break the isolation often experienced by an author in a small language area. His works include electro-acoustic pieces as well as instrumental and vocal compositions. From the end of the sixties up to 1979, he worked essentially with electroacoustic music and created, with Lars-Gunnar Bodin, Åke Hodell, Bengt Emil Johnson, the theory and the practice of a new aesthetic field: "The electronic text-sound". Sten Hanson realized a large number of works in various styles : works for television, ballet music, performances, audiovisual performances assisted by computer, pieces for instruments and tape and/or electronics, works for orchestras and computer music. Many of his early compositions were short, hard hitting collages of text and sound with a socially and politically committed content: Che (1968), Western Europe (1969), Revolution (1970). In other works the emphasis was more on humorous burlesque: Coucher et souffler (1968), How are You (1969). Compositions like Fnarp(e) (1970) and L'Inferno de Strindberg (1971) have passed through more extensive electro-acoustic processing, as is also the case in the humorous but cautionary The Flight of the Bumblebee (1982).
The voluminous John Carter Song Book (1979-1985) is based on the early science fiction writer Edgar Rice Burroughs' texts concerning the American Captain John Carter's adventures among the red men of Mars. In principle this is pentatonic music, but with a lavish flora of glissandi and microtonal elements. The vocal elements have been synthesised at the computer studio of Brooklyn College, New York. Wiener-Lieder (1985-1986) for soprano, piano and recorded tape was first performed at the 1987 Swedish Music Spring Festival. In a series entitled Play Power (e.g. No. I 1961, No. IX 1982) he has used the potentialities of an instrument together with a recorded part in which the characteristics of the instrument.
Bernd Schurer
Bernd Schurer (geboren 1970 in Zürich, lebt und arbeitet in Zürich und Berlin) ist ein Künster, der mit Fokus auf Computermusik, Elekroakustischer Komposition und Sound Art mit unterschiedlichen Methoden und Effekten räumliche und zeitliche Perzeption manipuliert. In seiner freien Arbeit untersucht er weithin neue Verfahren der Soundintervention und Klangprojektion, mit Rekurs auf sowohl historische Entwicklungen der Computer- und Elektronischen Musik, wie auch auf aktuelle Forschungsgegenstände durch komplexe transdisziplinäre Entwicklungs- und Organisationsprozesse. Im Umfeld von Perfomance, Studio und Installation  wurden seine Arbeiten international präsentiert. Schurer arbeitet häufig mit dem bildenden Künstler Yves Netzhammer, der Videokünstlerin Bettina Disler sowie dem Autor und Theaterkünstler Tim Zulauf zusammen.
Bernd Schurer studierte Philosophie und Filmwissenschaft an der Universität Zürich und Kunst an der Universität für Angewandte Wissenschaften und Kunst, Luzern. Zurzeit absolviert er einen MAS in Komposition und Theorie, Schwerpunkt Elektroakustische Musik, an der Zürcher Hochschule der Künste. Schurer betreibt und kuratiert zusammen mit Marcus Maeder seit 1996 die Audio- Plattform domizil.
Web:
www.domizil.ch
www.heterophenomenological.net