23.10.2008, 21.00h
Kulturbunker Mülheim, Berliner Str. 20, 51063 Köln
www.kulturbunker-muelheim.de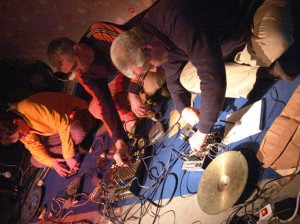 Kapotte Muziek + Tarkatak live
Kapotte Muziek, the fragile sound unit exploring the beauty of everyday found objects, is playuing a concert in Cologne on October 23rd. For this night Kapotte Muziekl will be Frans de Waard (Beequeen, Shifts, Korm PLastics, Vital Weekly), Roel Meelkop (Goem) and Peter Duimelinks (Goem, Audio_NL). During the day KM will give a workshop for school kids how to make "music" with found objects and non-musical instruments; in the evening they will play a regular concert. Opening act will be Lutz Pruditsch's (Der Pilz, Raumerkundung, Dachstuhl Recordings) project Tarkatak. Of late he has released a beautiful ambient album on Genesungswerk which showed his qualities as a great sound sculpturor.
Entrance is 6 Euros.
www.beequeen.nl/kapottemuziek.html
www.tarkatak.de
In the afternoon there is a FREE workshop with Kapotte Muziek on sound recording and live mixing from 14-19h. Please reserve to participate at Kulturbunker Mülheim.