Sa. 21.11.2009,
Einlass: 20.00h, erstes Konzert: 20.30h
aufabwegen präsentiert: Geräuschwelten #52
PACIFIC 231
(rhythm industrial legend, first German concert since 1988!, F)
&
SUDDEN INFANT
(small erruptive noises, Schimpfluch Gruppe, CH)
&
ESTHER VENROOY
(Heavy electroacoustics, B)
Black Box/cuba
Achtermannstr. 12, 48143 Münster
Mit der 52. Ausgabe der Geräuschwelten kehrt ein Projekt aus den 1980er Jahren erstmals nach Deutschland zurück: Pacific 231. Pierre Jolivet benannte sein Projekt zwar nach Arthur Honeggers Komposition, produzierte aber vor allem harschen Industrial Noise an der Grenze zum Schmerz. Diese subkultrellen Lehrjahre brachten Jolivet zum Interesse an der Beschaffenheit von Klang an sich; Pacific 231 spielen moderne elektronische Musik. Joke Lanz und sein Projekt Sudden Infant gehört zur Schweizer Schimpfluch Gruppe, die in Fortführung des legendären Cabaret Voltaire in Zürich, Performance Kunst, Dada-Noise und Provokation kombinierten. Lanz ist heute ein Wanderer zwischen den Welten, der sich von der E-Musik bis zur Gothic Fraktion in vielen Szenen bewegt. Esther Venrooy schafft konzentrierte akustische Landschaften mit ihren am Laptop erzeugten Sounds. Es wird ein spannungsreicher Abend. Geräuschwelten wird gefördert durch das Kulturamt der Stadt Münster und von ProHelvetia – Schweizer Kulturstiftung.
————————————————————————-
Pacific 231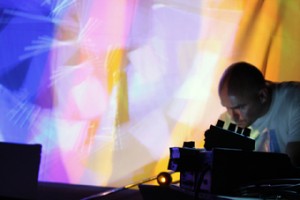 Pacific 231 is the project of Pierre Jolivet, a French musician now residing in Ireland. It came into existence in the early 80s and belonged to the first wave of industrial groups. Early albums were released by Le Syndicat, Cause And Effect & Bunker Records. Invaluable assistance in due time was given by
Psyclones with whom Pierre recorded a couple of albums under the Psy 231 moniker, which were released on their label Ladd-Frith. While the early Pacific 231 albums like "Thulé Apocalypse" and "Unusual Perversions" show us the bridge between power electronics and old school industrial, the later ones are much more experimental in sound and appeals to quite another perception type — in no way to some numb stupor and paralyzing fear but to a complex balance of concentration and relaxation, governed by the harmony of resonances and transitional processes. The research was made on highly organic and self-consumed struggle occuring on the speculative level. Pierre is extremely exact in dealing with musical matter, slightly elucidating only those areas that do not bring danger though are not particularly flattering to your ears. His focus is primarily on sound – awkward, free of gloss but not free of sonic charm. Recently Pierre' s activity has slowed and his style has undergone substantial changes, moving far from noise music into the sphere of experimental electronics and synthetic sound.
Since 1981, starting with Psychic Euthanasia a limited edition tape recorded in total stereo, I've been involved with VP 231 Records for a few years alongside Vox Populi!. My first LP was released on VP 231 Records in 1984. After some references, VP 231 Records was terminated following a seminal double LP international compilation. Today, I am a co-producer on all my productions: Bunker Records in Canada for the Power Assume LP (1987), Old Europa Cafe in Italy for the Thulé Apocalypse CD (1999), Syntactic in Austria for the Heuristic Occlusion 7″ Picture Disc (2001) and with Rotorelief in France for the Ethnicities CD/LP (2006).
www.pacific231.com
Sudden Infant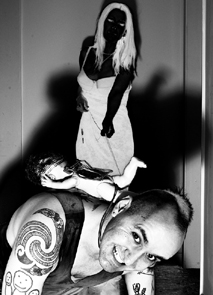 Joke Lanz *1965 Basel / Switzerlandelectronics, noise, vocals, turntables
Based in Berlin.
Free studies in Performance Art, Improvised and Noise Music.
Since 1986 a broad variety of band projects such as: Sudden Infant, WAL, Schimpfluch-Gruppe, Catholic Boys in Heavy Leather, The Eye of Arghhh, Opposite Opponents, Vostok 1, Psychic Rally, Vehikel & Gefäss, Schnäbi Gaggi Pissi Gaggi, Jaywalker, MK Selection, Tell, Leberwanz
Psychic Rally, experimental radio show on radio LoRa Zürich (1989-1995).
Collaborations and concerts with: Z'EV, Christian Marclay, Voice Crack, Peter Kowald, Carlos Giffoni, Key Ransone, Roger Rotor, Rudolf Eb.er, Runzelstirn & Gurgelstock, Annie Stubbs, Marc Zeier, G.X. Jupitter-Larsen, Daniel Menche, Bill Kouligas, Norbert Möslang,  Marco Käppeli, Hämi Hämmerli, Bruno Amstad, MSBR, Aube, Devotchka.s Conundrum, C.C.C.C., Con-Dom, Brume, Nomex, Tac, DJ Olive, Neuromodulator, Nikola Lutz, Günter Weiss, Omri Ziegele, Billiger Bauer, Inzekt, Daniel Löwenbrück, Franz Lieberherr, Chris Wiesendanger, DOM, Charlotte Hug, Jan Schlegel, Salome Schneebeli, Martin Gantenbein, Hans Koch, Martin Schütz, Martin Baumgartner, Jorge Sanchez-Chiong, Christian Weber, Guilty Connector, Ohne, Richard Ramirez, Macronympha, Grey Wolves, Projekt Marx, Noise of Gaki, Simone Vollenweider, Lionel Friedli, Urban Lienert, DJ Sonik, Niki Good, Strotter Inst, Bernd Schurer, Lunchbox, Yves Reichmuth, Christian Wolfarth, Susanne Abbuehl, Christoph Merki, Tony Renold, Cor Fuhler, Riccardo Massari, Christoph Baumann, Simon Berz, Francois Chalet, Family Battle Snake, Olaf Rupp, Brigitte Wilfing, Astro etc.
Festivals: Kunstszene Shedhalle Zürich 1990/91, More Pricks than Kicks Festival Zurich 1993, Broken Life Festival Taipei 1995, Bellouard Festival Fribourg 1996, Be-Jazz Bern 1998, Jazzfestival Schaffhausen 1998, Transmediale Medienkunstfestival Berlin 1999/2000, Noise Festival Vol. 2 Tokyo 2000, Donaufestival Korneuburg/Wien 2001, M for Music Zürich 2001, Jazzfestival Aarau 2001, Biennale Big Torino 2002, Jazz onze+ Lausanne 2003, Wien Modern 2004, LEM Barcelona 2004, Maschinenfest Krefeld 2004, Unerhört Festival Zürich 2004, No Fun Fest New York City 2005, Jazzfestival Schaffhausen 2005, Transart Bozen 2005, LUFF Lausanne 2005, Wien Modern 2005, Avanto Festival Helsinki 2005, Termite Club Festival Leeds 2005, Noisecape Festival Den Haag 2005, Rhythm Industry Den Haag 2005, Volts & Visions Festival Zurich 2006, No Trend Festival London 2006, Wien Modern 2006, EarWeAre Bienne 2007, Elektroanschlag Altenburg 2007, Maschinenfest Krefeld 2007, Ultra Eczema Festival Antwerp 2007, ZXZW Festival Tilburg 2007, Twisted Knister Festival Bremen 2007, Wien Modern 2007, Cut & Splice Huddersfield 2007, Hörbar Ausklangfestival Hamburg 2007, Volts & Visions Festival Zurich 2008, Unyazi Festival Stellenbosch & Johannesburg 2008, No Fun Fest New York City 2008, e_may Festival Vienna 2008, Observatori Festival Valencia 2008, Summer Darkness Festival Utrecht 2008, Schlagstrom Festival Berlin 2008, Maschinenfest Krefeld 2008, Wien Modern 2008, Wundergrund Festival Berlin/Copenhagen 2008, BIM Fest Antwerp 2008
Joke Lanz aka Sudden Infant creates an unique blend of physical sound-poetry and dadaistic vocals, using contact microphones, prerecorded soundloops and noises.
The result is abrupt Musique Concrète juxtapositions of spasmodic gibbering and a battery of disorienting electronics. It's a fragmented field of sound that comes to its own autonomy!
Born in Switzerland, now based in Berlin, Joke Lanz is presenting his work since more than 20 years all over the world.
Music for contemporary dance, theatre, sound-installations and films.
Innumerable releases on international labels e.g. Schimpfluch, Entr'acte, RRR, Tochnit Aleph, Blossoming Noise, SSSM, Artware, Klanggalerie, MSBR, Some Bizarre, iDeal Recordings.
Workshops at the Music Academy Lucerne (Noise & Turntablism).
Lectures at the University of Music and Performing Arts Vienna and the University of Stellenbosch.
Artist residencies in Berlin (1999) and London (2004).
Composition assignment by Pro Helvetia Arts Council of Switzerland (2006).
Esther Venrooy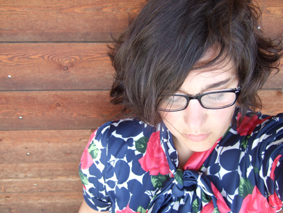 Esther Venrooy (°1974, Rosmalen, The Netherlands) is a composer and sound artist working in the field of electronic music.
After completing studies in classical saxophone, Venrooy attended the European Dance Development Center (Arnhem) as a composer in residence, where she began employing electronic and digital techniques in pieces aimed at choreography and stage performance. Gradually her music evolved into an independent means of expression and she continued her work with electronica at the IPEM (Institute for Psycho-acoustics and Electronic Music) in Ghent, Belgium where she still resides. At this time she started utilizing film editing paradigms as a foundation for her personal composition methods.
Her works range from purely electronic composed music to improvised combinations of electronica with traditional or ethnic instruments. She has created site-specific works as well as multimedia performances and installations. Much of her music has been released on CD or vinyl and has received good critical response.
Esther Venrooy has performed her music extensively for audiences in cities such as Antwerp, Amsterdam, Brussels, Berlin, Gent, Madrid, Hamburg, Cologne, New York, Washington DC and Beijing. And she collaborated with Min Xiao-Fen (pipa), Wu Na (guqin), Frederik Croene (piano), Heleen Van Haegenborgh (piano), Maja Jantar (voice), Lieve D'hondt (video) and Hans Demeulenaere (architectural installations).
In the fall of 2009 Esther will start her PhD research on "Audiotopography" and the integration of sound art in architecture.
Apart from her artistic activities, Venrooy is a lecturer on 20th century music at the Ghent school of fine arts, where she also runs the experimental department and an audio workshop. Venrooy also presides the board of the (k-raa-k)3 organization.