Fr. 18.12.2009,
Einlass: 20.00h, erstes Konzert: 20.30h
aufabwegen präsentiert:
broken sound#2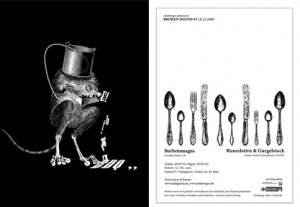 Borbetomagus
Free-Jazz-Noise veterans from the USA
&
Runzelstirn & Gurgelstock
(Schimpfluch Gruppe, CH, dada-noise-shock)
Studio 672/Stadtgarten
Venloer Str. 40, 50672 Köln
Auch der zweite Teil der Reihe "broken sound" widmet sich akustischen Extremen. Es kommen die Noise Veteranen von Borbetomagus nach Köln, die mit ihren Saxophonen eine kakophonische Karthasis auslösen, die eine Welt in trümmern zurücklässt. Mit Präzision und Wucht fräst sich die Gruppe durch Free Jazz Zitate auf der Suche nach dem referenzlosen Lärm. Zusammenarbeiten mit Voice Crack, Sonic Youth-Mitgliedern oder Peter Brötzmann sprechen für sich. Rudolf Eber spielt erstmalig mit seinem Projekt Runzelstirn & Gurgelstock in Köln. Der Schweizer lebt seit Jahren in Japan und hat die Extreme der Subkulturen dort inhaliert und in Kombination mit einer starken Hinwendung zu Dada und den Wiener Aktionisten zu einer ganz eigenen Lärm-Performance mit heftigem Körpereinsatz geformt. Eintritt erst ab 18 jahren und auf eigene Gefahr! "broken sound" wird kuratiert von Till Kniola/aufabwegen.
broken sound wird gefördert durch den Ministerpräsidenten von Nordrhein-Westfalen, das Kulturamt der Stadt Köln und ProHelvetia – Schweizer Kulturstiftung.
   
 Künstlerinformationen:
Borbetomagus
Don Dietrich, Jim Sauter, Donald Miller
Borbetomagus is a trio of Don Dietrich (reeds) Jim Sauter (reeds) and Donald Miller (guitar) and additionally Brian Doherty (electronics) that has existed since the mid-seventies. This is free-improv "jazz" of the most extreme nature and its not for the faint hearted, since Borbetomagus create a heavy bone crushing wall of noise. They were working with many artists, including Thurston Moore and the Swiss duo Voice Crack.
Borbetomagus are a free improvisation/ noise music group. They are cited by critics as pioneers of aggressive improvised noise music.
Biography
Borbetomagus formed in 1979 when saxophone players Jim Sauter and Don Dietrich joined with electric guitarist Donald Miller. Bass guitarist Adam Nodelman was briefly a member, and they have occasionally collaborated with others.
Their aggressive music has been described as "a huge, overpowering, take-no-prisoners mass of sound."  One extended technique they use is called "bells together" where Sauter and Dietrich place the bells (openings) of their saxophones against one other while playing.
While the core trio listed above has been responsible for most of Borbetomagus's music, they have collaborated with Swiss circuit bending duo Voice Crack, Dutch cellist Tristan Honsinger, German double-bassist Peter Kowald, and others. In 2006, they recorded a collaborative album with Hijokaidan live at the Festival de Musique Actuelle in Victoriaville, Canada, and in 2007 their long out-of-print cassette Live In Allentown was released on CD with nearly twice as much material as the original. Sauter and Dietrich have also recorded a duo CD, and a collaborative CD with Sonic Youth guitarist Thurston Moore.
Influence
They are considered widely influential on the Japanese noise music scene, as demonstrated by the re-release of their limited Live At Inroads cassette on CD by the Japanese label P.S.F. Records, as well as having a CD released by Osaka-based noise label Alchemy Records.
They have been influential on many American rock, free jazz, and noise musicians, such as Sonic Youth, Pelt, Thomas Ankersmit, and Kevin Drumm. Miller has worked with Pelt; he now resides in New Orleans, where he frequently collaborates live with Rob Cambre and others on E-Bowed guitars.
Discography
Borbetomagus (Agaric, 1980)
Work On What Has Been Spoiled (Agaric, 1981)
III (Agaric, 1982)
Industrial Strength (Leo 113, 1983)
Barbed Wire Maggots (Agaric, 1983)
Bells Together (Agaric, 1985)
Borbeto Jam (Cadence, 1985)
Zurich (Agaric, 1985)
New York Performances (Agaric, 1986)
Seven Reasons For Tears (Purge 027, 1987)
Fish That Sparkling Bubble (Agaric, 1987)
Sauter/Dietrich/Moore: Barefoot In The Head (Force Exposure, 1990)
Snuff Jazz (Agaric, 1990)
 
Runzelstirn & Gurgelstock / Rudolf Eb.er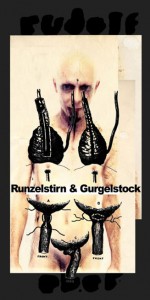 Aktionen & Exhibitions (Auszug)
1985
Teleaktionist – Zürich, Switzerland
Concert "For Window and Animal Corpses" – Bern, Switzerland
1987
Motori(k/sch) – Spittal a. d. D., Austria
1988
Concert "For two Nerve Systems" – Zürich
Reaktionstraining (Aktiv/Passiv) – Zürich
…mit Kopf nach unten (Pferdeskalp? Oh Shit / Mmm) – Reykjavik
1989
Abreaktionsspiel – Zürich
Schwein-genanntes Unter-ich (Der Eb.er in Dir) – Spittal a.d.D.
Aktionsjodlerei – Oithal, Switzerland
1990
Erbrechspiel (Vomitplay) – Zürich
Aktionen zu Eberdorf (Series)
1991
910512 – Mama 1 (Reinigungsaktion) – Zürich
911130 – SN (Essen/Eating) (kunstszene '91 Festival) – Zürich
1992
920510 – "Aktion mit Bullterrier" – Kölliken
"Bracul" – Aktion / Installation (In absence of Rudolf Eb.er) – Frankfurt, Germany
1993
Contribution at "AVE '93" Festival – Arnhem, Netherlands
Konzert 930227 (w/ Joke Lanz, Celeste Urech) – Kölliken
1994
 (Part of) labor 8 (Lecture, Performance, Exhibition) – Zürich
Aktion "For two Lovers and Pigbrain" – Zürich
1995
950901 – (Con-Dom, C.C.C.C., Schimpfluch-Gruppe) – Ilan, Taiwan
950908 – Aktion (Taipei Broken Life Festival) – Taipei, Taiwan
Exhibition at Taipei County Culture Center
1996
960202 – Aktion (Schimpfluch-Gruppe / Nan Quan Collaboration) – Taipei
960331 "Triebjagd" Hospitalization – Bern
Konzert "For two Snails and Pap" – Zürich
1997
Aktionistic Concert 970223 – Paris
Exhibition at "Ear as Eye" – Los Angeles, USA
Exhibition at the Art-University of Zürich
Exhibition at "B&H" – Zürich
3 Actions 970927 (One in Collaboration w/ Masonna) – Osaka, Japan
Aktion 971008 – Okayama, Japan
Aktion 971111 (as "Eb.ersonna" Collaboration w/ Masonna) – Tokyo
Aktion "Für Streichquintett und Arschtrompete" 971206 – Tokyo
1998
Aktion "For Staplegun and Tapes" 980214 – San Francisco, USA
Installation "For 10 Human Heads", Exhibition – Tokyo
Aktion "Für 3 Ziegenböcke / For 3 Goats" – Taipei
1999
Konzert (w/ Masami Akita, Kouhei Matsunaga, Masonna) – Osaka
Aktion 990324 "For disarranged Leg/Arm Prosthesis" (w/ Masonna) – Tokyo
2000
Acting / Narration for Movie "w/o", directed by Kohki Hassai – Tokyo
Antiaktion 000311 – Tokyo
2002
Audio-Aktion für WDR – Germany
Aktion "Erbrechspiel für ein Mädchen" 020526 – Osaka
Aktion "Erbrechspiel mit Schreichor" 020602 – Kyoto, Japan
2003
Audio-Aktion für "Ars Electronica" – Linz, Austria
Symposium Teilnahme "Crashcourse / Meine.bank" – Berlin, Germany
2004
Furzkonzert 040425 – Osaka
Konzert 040617 (w/ John Duncan, Zbignev Karkowski, Kouhei Matsunaga) – Paris
Furzkonzert 040626 – Berlin
2005
Exhibition (w/ Yamatsuka Eye, Andy Bolus) – Osaka
Konzert w/ Leif Elggren, Tetsuo Furudate 050731 – Osaka
2006
Radio-Aktion 060503 – RES FM London
Concert "For four Chairs" (Schimpfluch-Gruppe) 060504 – AA-London
Concert for Spanking 060917 – Tokyo
2007
Konzert for Spanking 070311 – Osaka
Audio-Exhibition "Schlechte Musik" – Breda, Netherlands
Aktion 070722 – Christchurch, New Zealand
Exhibition and Aktions-Konzert 070811 – Sydney
Radio-Aktion (w/Joke Lanz, Raijo Pami), (Radio Centraal) 070815 – Antwerp, Belgium
Audio-Exhibition "Schlechte Musik" 070921-071014 – Breda, Netherlands
2008
Konzert for Spanking 080209 – Osaka
Shaman-Concert (w/Mai Sau) 080426 – Osaka
Audio-Exhibition "21:100:100" – Melbourne