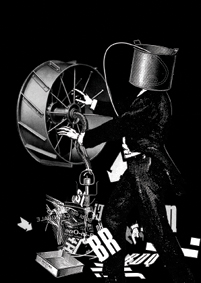 Mi. 01.12.2010,
Einlass: 20.00h, erstes Konzert: 20.30h
Eintritt: AK 10 /  VVK 8 EUR
aufabwegen präsentiert: broken sound #6
ARANOS (CZ/IRE)
Gypsy Zen from this Nurse With Wound collaborator!
&
HELENA GOUGH (UK)
Entr'acte, hyper-active sonic deconstructions
&
EVAPORI (D)
Walter Ulbricht Schallfolien, analoge Haushaltsatmosphäre
Stadtgarten
Venloer Str. 40, 50672 Köln
Die sechse Folge der Konzertreihe "broken sound" bringt erstmalig den Drone-Freak-Out Geiger ARANOS aus dem Nurse With Wound Umfeld nach Köln. Petr.Vastl (aka Aranos) bezeichnet seine Performance als Gypsy Zen – kraftvolle Vocal/Violin-Drones in der Tradition der Eternal Music eines La Monte Young. Im Gegensatz dazu spielt Helena Gough ultra zersplitterte, raumakustische Komputermusik, mit sehr viel Liebe zum Detail und aufregenden, fremdartigen Klängen. Oliver Peters aka EVAPORUI wird seine Kassetten-Kompositionen präsentieren, in denen er Feldaufnahmen aus Küchen und anderen Innenräumen mit abstrakt-manipulierten Instrumentalsounds (Klarinette u.a.) mixt. Das alles ist BROKEN SOUND!
"broken sound" wird kuratiert von Till Kniola/aufabwegen und gefördert durch das Kulturamt der Stadt Köln und das Ministerium für Familie, Kinder, Jugend, Kultur und Sport des Landes Nordrhein-Westfalen.
ARANOS
Plays Gypsy Zen
Born in Bohemia, moved to Great Britain via France and Netherlands. Now  lives on a hill in Ireland, where he composes music, which he records playing various instruments.  His favourite instrument is violin. Occasionally collaborates with NWW.  Interest in spiritual development through sound and various disciplines of the body movement is evident in some of his releases. Considers this incarnation of his fairly comfortable and mildly funny, though perhaps not as exciting as some of his previous ones.
His influences range from East European Gypsy music through Shakuhachi Buddhist music of Japan, blues, slave songs from USA, English and European folk, western classical, contemporary composers both "serious" and not so serious, sounds of nature, sounds of the cities, and anything that makes some kind of impression be it aural or through other senses.
Released records on  Noise museuM, Soleielmoon, United Dairies, Beta Lectam records, Volvox Music, Klanggalerie, Brainwashed and others, as well as his own label Pieros.
Most releases are small editions with handmade covers.
It's good to be alive!
Website:
www.aranos.net
HELENA GOUGH
Helena Gough is an English sound artist currently living in Berlin.
Her work initially focused upon the collection and manipulation of 'real-world' sound material and the exploration of its abstract properties. Occasional deviations into synthetic and instrumental sources are now developing into more prominent ingredients.
Each new sound-space is created by taking everything possible from the tiniest element, working to make something from nearly nothing. This reduction in means yields a density and richness of results.
As a solo (laptop) player she presents her music live on a regular basis, and is also a member of various improvising electro-acoustic ensembles involving musicians such as Lee Patterson, Andrea Neumann and Rhodri Davies. Her live sets are intended for dark spaces and involve multi-layering and improvisation with her sound materials in order to create a unique environment for each new performance. Studio collaborations are currently underway with Dutch composer Esther Venrooy and Swiss sound artist
Zimoun.
Her debut solo album was released at the beginning of 2007 by the London based label Entr'acte, followed by a second album is June 2010.
Website:
www.helenagough.net
EVAPORI
Oliver Peters (Evapori) lives and works in Berlin. He begun producing electronic music in the 1990s, and has been recording and performing as as Evapori since 2002. His compositions are mostly based on concrete sound sources: field recordings, transformation of found footage and the use of self-made
sound objects or classical instruments such as piano or cello.
Together with Nicolas Wiese ([-Hyph-]), Peters established the record label AIC in 2002. He has contributed music to the short scientific film E 2250, to Sami Alaeddin's 2 -screen  video installation shot reverse shot, and a composition to Satoshi Morita's Klanghelm (Sonic Helmet) project. His Rehearsals for
Objects CD (1000füssler, 2008) was broadcast by Deutschlandradiokultur. Transkript 18 was awarded second prize in the CEC–Prix Jeu des Temps 2009.