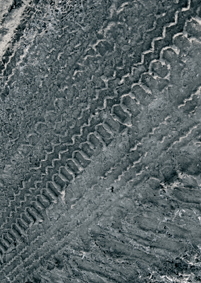 Fr. 03.12.2010,
Einlass: 20.00h, erstes Konzert: 20.30h
aufabwegen präsentiert: Geräuschwelten #58
RAPOON
(ex-Zoviet France, UK, hypnotic ambient loops)
&
ARANOS
(Gypsy Zen drones from the Nurse With Wound collaborator, IRE)
&
AKI ONDA
(cassette memories, analogue wilderness, JAP)
Black Box/cuba
Achtermannstr. 12, 48143 Münster
Die 58. Folge der Geräuschwelten bringt einen der Wegbereiter des Industrial zum einzigen BRD-Auftritt 2010 nach Münster: Robin Storey aka RAPOON. Storey war Mitbegründer der legendären Formation Zoviet France, die mit geräuschhaft angereicherten rhythmischen Tracks das Genre der Industrial Music mit prägten. Als Rapoon macht Storey seit Mitte der 1990er Jahre loopbasierte Tracks, die oft Elemente außereuropäischer Musikkulturen inkorporieren. Außerdem wird es ein Gastspield es Freak Out Drone Geigers Aranos geben, der in der Tradition von La Monte Youngs Eternal Music steht. Und schließlich gibt es ein analoges Konzert von Aki Onda, der mit Kassetten als Audiotagebüchern arbeitet und diese in Verfremdungen durch Gitarrenamps abspielt. Es verspricht ein bunter Abend zu werden!
Geräuschwelten wird gefördert durch das Kulturamt der Stadt Münster und die LAG Soziokultur NW mit Mitteln des Ministeriums für Familie, Kinder, Jugend, Kultur und Sport des Landes Nordrhein-Westfalen.
www.geraeuschwelten.de
Informationen
Rapoon
Biography: Robin Storey. Aka Rapoon.
For almost 30 years now Storey has been releasing music recognized worldwide as innovative and influential. Firstly as a founder member of the groundbreaking and much lauded band Zoviet France and latterly as the solo multimedia artist and collaborator Rapoon.
From 1979-1992 Storey was a co-founder member of Zoviet France and was personally responsible for much of the music and imagery associated with the band during the period that is seen as their most productive and influential. From 1992 to the present day Storey has released a huge back catalogue of
recordings and gained an international reputation as an experimental artist/musician in his own right.
Storey trained as a fine artist from 1973-1977 and gained his degree: BA hons: Fine Art from Sunderland School of Art in 1997. (Despite this being a fine art degree Storey also managed to study and train as an avant garde composer during these years under the tutelage of Dave Pinder, a contemporary modernist composer. He then trained and eventually taught, as a printmaker and graphic artist at Charlotte press workers co-operative in Newcastle Upon Tyne.(1977-1989) Graphic art and printmaking were defining elements in the early Zoviet France releases which included hand made sleeves with strong graphic imagery. From 1979 to 1994 Storey worked as a fulltime and freelance audio/visual technician for local AV companies . During this time he learned skills such as rostrum camera work , video editing and slide animation . All of these skills were transported into his own visual work and incorporated into his artistic output. From 1979- 1994 Storey exhibited his visual work widely and internationally. These included touring exhibitions of the former USSR and the USA. Post 1994 Storey concentrated on his musical output and has to date released almost 40 solo recordings as Rapoon and numerous other collaborations and side projects including Reformed Faction with Mark Spybey and Hank and Slim with Nigel Ayers.
www.rapoon.net
Aranos
Plays Gypsy Zen
Born in Bohemia, moved to Great Britain via France and Netherlands. Now  lives on a hill in Ireland, where he composes music, which he records playing various instruments.  His favourite instrument is violin. Occasionally collaborates with NWW.  Interest in spiritual development through sound and various disciplines of the body movement is evident in some of his releases. Considers this incarnation of his fairly comfortable and mildly funny, though perhaps not as exciting as some of his previous ones.
His influences range from East European Gypsy music through Shakuhachi Buddhist music of Japan, blues, slave songs from USA, English and European folk, western classical, contemporary composers both "serious" and not so serious, sounds of nature, sounds of the cities, and anything that makes some kind of impression be it aural or through other senses.
Released records on  Noise museuM, Soleielmoon, United Dairies, Beta Lectam records, Volvox Music, Klanggalerie, Brainwashed and others, as well as his own label Pieros.
Most releases are small editions with handmade covers.
It's good to be alive!
websites
www.aranos.org
AKI ONDA
Aki Onda is an electronic musician, composer, and photographer. Onda was born in Japan and currently resides in New York. He is particularly known for his Cassette Memories project – works compiled from a "sound diary" of field-recordings collected by Onda over a span of two decades. Onda's musical instrument of choice is the cassette Walkman. Not only does he capture field recordings with the Walkman, he also physically manipulates multiple Walkmans with electronics in his performances. In another of his projects, Cinemage, Onda produces slide projections of still photo images set to live guitar improvisation. Onda has collaborated with artists such as Michael Snow, Ken Jacobs, Alan Licht, Loren Connors, Oren Ambarchi, Noël Akchoté, Jac Berrocal, Linda Sharrock, and Shelley Hirsch.