Mi. 25.05.2011,
Einlass: 20.00h, Konzert: 21.00h
aufabwegen präsentiert:
broken sound #8
LARSEN feat. Little Annie
(Chamber Post-Post Rock with Little Annie on vocals, Italy)
&
BLACK TO COMM
(Ghostly drones from Hamburg, Type/Dekorder)
Stadtgarten
Venloer Str. 40, 50672 Köln
Das großartige Suspense-Doom-Kammer-Rockensemble LARSEN kommt erstmalig zu einem Gastspiel nach Köln. Die vier Italiener werden ihr neues Album präsentieren und bringen als Gastsängerin niemand geringeren als Little Annie (aka Annie Anxiety) mit, die Gründungsmitglied der wirklich legendären UK-Artpunk-Truppe CRASS war. Der mit Streichern und Electronics angereicherte Experimentalrock von LARSEN entfaltet in den langen Tracks eine Dynamik und Spannung, wie man sie von Acts wie Mogwai oder Godspeed! You Black Emperor her kennt. Support kommt vom großartigen Ein-Mann-Projekt BLACK TO COMM aus Hamburg. Marc Richter, der das vielbeachtete Label Dekorder betreibt, fabriziert unter dem Namen BLACK TO COMM verwackelte Drone-Psychedelia mit kosmischen Anklängen. Immer bunt, immer flippig, nie blöd. Zuletzt wurde er auf das zur Zeit schwer angesagte TYPE Records Label gehievt, was wie eine echte Auszeichnung ist! Die Reihe "broken sound" wird kuratiert von Till Kniola/aufabwegen.
broken sound wird gefördert durch die Ministerpräsidentin von Nordrhein-Westfalen und das Kulturamt der Stadt Köln.
Künstlerinformationen:
LARSEN

LARSEN, from Torino, Italy, has in 15 years of activity released 13 full length albums, 2 eps, 2 dvds, got lot of press on both sides of the Atlantic, including the prestigious Wire and performed all over the world (both as headliner or sharing the bill with people like Neurosis and Einstuerzende Neubauten among others). Collaborations (in studio and/or on stage) with such artists as Michael Gira, Matmos, Martin Bisi, Matt Howden, Lustmord, Deathprod, Origami Galaktika, Backworld, Jarboe, Nurse With Wound, Little Annie, Fovea Hex, z'ev and sci-fi icon Christine Schell plus the project- a band in itself- XXL (aka Xiu Xiu + Larsen) as well as Larsen and Friends (along with David Tibet and Baby Dee of Current 93 plus Julia Kent and Johann Johannsson) also stand out on their record. Larsen members also run their own projects (Mannypol, ( r ), Blind Cave Salamander…) and/or play solo as well as with other musicians. Larsen has also released soundtracks, both for movies and theatre plays, including the award winner Cartoanimalettimatti (commissioned by the University of Torino for Winsor McKay's silent animated movies)
Black To Comm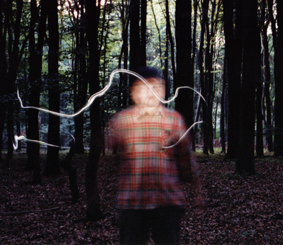 Marc Richter (aka Black to Comm) is no newcomer to the experimental music scene. As the figurehead of the Hamburg-based Dekorder label, the musician and designer has brought countless oddities to the attention of rabid music fans in the last few years, but it is with his own compositions that he has made the biggest splash. Releasing for a plethora of labels including Digitalis, Trensmat and of course his own imprint, he has pioneered a new, organic drone sub-genre using tape loops, vintage organs and an inexhaustible swamp of found sounds.
His last album "Alphabet 1968" has been released on UK-based Type Records and presented a more
song-oriented approach with references ranging from Moondog to Basic Channel by way of Bernard Herrmann.