Luminous Darkness at moers festival 2011
11. + 12.06.2011, 17.30h – 20.00h
Studio des Schlosstheaters Moers, Kastell 6, Moers
www.moers-festival.de
aufabwegen will host the concerts in the dark at the 2011 edition of the famous moers festival. The motto for the series is "Luminous Darkness", a title lovingly borrowed from the great Cyclobe (www.cyclobe.com).
Luminous Darkness is a series of short performances by international sound artists that will happen in total darkness. The idea is to present contemporary electronic and electro-acoustic music without visual distractions and for the listeners to be thrown back onto themselves and be totally immersed in thge sound.
All concerts are for free!
Artist information:
GREGORY BÜTTNER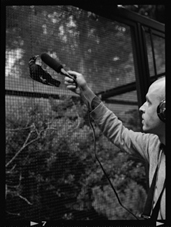 Gregory Büttner studied communication design in Hamburg, with a specialization in audiovisual work. Since 2000 he got his focus on soundart and electroacoustic compositions. In 2004 he launched his label 1000fussler which releases experimental music in small editions. In 2001 he founded his duo für diesen abend together with Stefan Funck and often accompanied by visuals from Katrin Bethge (overhead-projections). He works together with artists like Rhodri Davies, Birgit Ulher, Chris Heenan, et al.. His music released by labels like 1000füssler, Firework Edition, Anthropometrics/Aufabwegen, Grünrekorder, Compost and Height.
(photo: Alexandra Grieß)
www.gregorybuettner.de
ROBERT HAMPSON/MAIN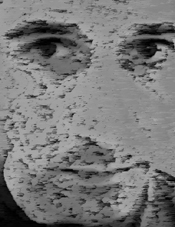 Born in 1965 in London.
A founding member of the groups Loop (1985-1990) and Main (1990-2006), Main (2011-    )
In 2011, a new compact disc of recent Acousmatic compositions inc. Repercussions (Commande du GRM – 2010) will be released as a follow-up to 'Vectors' (Touch – 2009) and also, after a hiatus of 5 years, Hampson is reactivating his work as Main to run concurrently with his solo work.
Hampson now lives and works in Paris, France.
(photo: Robert Hampson)
www.roberthampson.com
ILIOS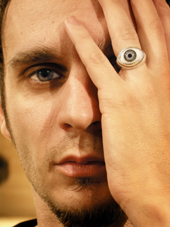 Active since the early 90's in sound art and image, ILIOS has been exploring the extremes of sound and image derived phenomena. Through constant change in his sound palette touching and surpassing the limits of the sound spectrum, flirting with the opposites from ultra-orthodox silence to ultra-catholic noise ILIOS advocates for an anti-career. Some of ILIOS recorded output has been regarded by the media as:
"The sound of death" or "The most enervating record imaginable".
By 2010 ILIOS has performed more 200 times in various venues and festivals in 25 countries in Asia, Europe, Oceania, South and North America, pushing the space and body resistances to a hard test
pursuing a state of alert for the human senses.
-ILIOS has studio and live collaborations with the likes of:
Francisco Lopez, Jason Kahn, Nikos Veliotis, Zbigniew Karkowski, Antoine Chessex,,Keiichiro Shibuya, Michael Gendreau, Norbert Möslang, Coti K, as11, Xabier Erkizia, Julien Ottavi, Bernd Schurer, Ralph Steinbruechel,
Takehiro Nishide, Tzesne, Richard Francis, Mattin a.o
(photo: Xavier Helauer)
www.siteilios.gr
COLIN POTTER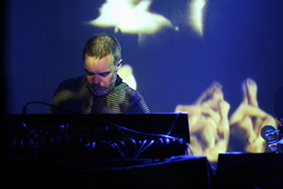 Colin Potter is a sound engineer and musician. He has been involved in the field of electronic and experimental music for over 30 years. Based at his own IC studio, he has recorded, produced and distributed a wide array of projects. He has gained a reputation for innovative mixing and sound processing, working with artists such as Current 93, Fovea Hex, Ora, Organum, Monos, Andrew Chalk, Jonathan Coleclough and, most notably, with Steven Stapleton on many albums by the renowned Nurse With Wound. Several solo works have been released, as well as many collaborations.
In the late Nineties, a desire to return to live performance has led to appearances at the Beyond Music festival in Los Angeles, 7 Hz in San Francisco, the Liverpool Biennial, the Termite festival, Leeds, the Earational festival, Holland, the Donau festival, Austria, Brainwaves, Boston, All Tomorrow's Parties, Ether festival at London South Bank, Villette Sonique, Paris, Resonator festival, Preston, REC festival, Reggio Emilia, Radar festival, Mexico City, Settembre Musica, Turin, the AvantGarde festival, Hamburg, Mutek festival, Montreal, Nodutgang Festival,Bodo and numerous concerts in New York, San Francisco, Seattle, Portland, Perth(Australia), Moscow, Berlin, Munster,Cologne, Leipzig, Warsaw, Wroclav, Kracow, Gdansk, Paris, Venice, Ghent, Prague, Brno, Vienna, Lisbon, Porto, Barcelona, Seville, Berlin, Manchester, Brighton, Bristol, Nottingham, Glasgow,  Edinburgh and London.
(photo: Colin Potter)
www.icrdistribution.com
ALEXANDER RISHAUG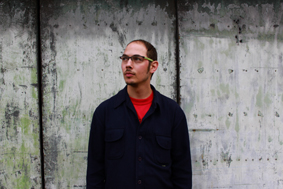 Alexander Rishaug is a sound artist, producer and musician. His sound is melodic, melancholic and often quiet. Rishaug explores tones and textures through the use of electronics, field recordings, toys or simply just playing around with an instrument. Rishaug combines the intimate knowledge of his musical equipment with the curiousness of an amateur.
The result is always a detailed, rich and subtle sound, with a sharp focus on structure, rhythm and stretched out melodies. His sonic landscapes build and expand slowly, thereby moving the listener along an exploration of the experience of time. Acoustic and digital sounds are blended so that the origin is sometimes difficult to trace.
Among the musical references we find minimalist old-timers such as Steve Reich and Terry Riley, whose repetitive patterns and drones respectively, form the basis of much of Rishaug's album Possible Landscape. These song structures are combined with a sonic palette that is equally informed by post-90s electronic music and glitch as by composers such as Pierre Henry and Bernhard Parmigiani.
In particular there are many traces of the same kind of emotional use of electro-acoustic sounds that is found in Parmigiani's music. Although the glitch-sound will continue to be associated with Oval and the Mille Plateaux-label there is little in Rishaug's music that resembles this kind of coldly theoretical and clinically depersonalized sound. Rather, there is in Rishaug's music always a deeply human warmth that more resembles the personal investment of a singer-songwriter than a laptop-musician. The patient listener will pick up on these qualities and as a result the experience of Rishaug's music is rich with potential listening pleasure.
Rishaug was a part of the improv collective ARM (1996 -2006) together with Arne Borgan and Are Mokkelbost. Live they collaborated with artists such as: Håkon Kornstad, Martin Horntvedt, Ingar Zach, Pål Asle Petersen, John Hegre, Jørgen Træen, Toshimaru Nakamura and Salvatore.
As a solo artist he has collaborated and performed with:
Espen Sommer Eide (Alog), Haco (JPN), Lasse Marhaug, Tetsuro Yasunaga (Minamo), Andreas Meland, Ivar Grydeland, Hosomi Sakana (Neina), Daniel Meyer Grønnvold, Ole Henrik Moe, Del, Kari Rønnekleiv, Thomas Ankersmit (NL), Elin Vister (Dj Sunshine), Johannes Bergmark (SE), Erik Skodvind and Tape (SE).  Visual artists such as Marius Watz, Erich Berger, Pekka Stokke and Andreas Paleologos. He also has remixed metal innovators such as Ulver and She Said Destroy, long time noise geeks Jazkamer and just recent Bjørn Hatterud and Conrad Schnitzler's collaboration project Hirchgebrüll.
(photo: Alexander Rishaug)
www.arishaug.com
SIMON WHETHAM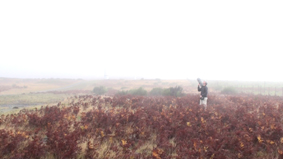 Simon Whetham has been capturing and composing almost primarily with field recordings since taking part in a research trip to Iceland in 2005.
Since then he has been gaining a steadily increasing profile: exhibiting in Iceland; recording in the Amazon Rainforest of Brazil; performing at a large number of festivals and events, both nationally and internationally, notably Experimental Intermedia in New York and Madeiradig 2010; having work accepted for release by labels Cronica, And/OAR, Dragon's Eye, SiRiDisc, Con-V, Trente Oiseaux, 1000fussler, Mystery Sea, Entr'acte, Install, Lens and Gruenrekorder; commissioned by Creative Labs to build a surround sound installation to demonstrate their equipment and software; commissioned by painter Kathryn Thomas to compose a surround soundtrack to accompany her 'Lightyears' series of exhibitions; producing radio works for Resonance FM, Overlap.org and Kunst Radio Austria; and invited to participate in two residencies at the Art Container in Tallinn, Estonia, the second to compose new work, collaborate with other artists using sound and run deep listening, field recording and compostion workshops.
This residency has resulted in 'Active Crossover', a touring exhibition and exchange project which continues to tour through 2011 in four further exhibition spaces across the UK, with associated live performance events featuring artists such as Colin Potter, Philip Jeck, Mark Fell and Scanner.
Events and projects in 2011 also include live performance at the Moers Festival, Germany; a further collaboration with Hugo Olim at Observatori Festival in Valencia, Spain; and running field recording workshops in Bogota, Colombia. Simon is based in Bristol, UK, where he has lived on and off for 14 years.
(photo: Simon Whetham)
www.simonwhetham.co.uk