Fr. 07.10.2011,
Einlass: 20.00h, erstes Konzert: 20.30h
aufabwegen präsentiert: Geräuschwelten #61
GERRITT WITTMER
(harsh digital noize, Misanthropic Agenda USA)
&
FEINE TRINKERS BEI PINKELS DAHEIM
(dada home made industrial sounds, D)
&
ANTOINE CHESSEX
(music for tape and treated saxophone, CH)
Black Box/cuba
Achtermannstr. 12, 48143 Münster
Die 61. Folge der Geräuschwelten präsentiert ein breites Spektrum elektronischer Klänge, welches von Noise über nervöse DIY-Elektronik bis hin zu strenger Elektroakustik reicht. Es spielen: Der US-Noise-Musiker Gerritt Wittmer, der bereits im Umfeld von Sunn O))) und Isis seinen digitalen Knirsch-Crunch-Doom-Noise präsentiert hat. Er betreibt das fantastische Label Misanthropic Agenda. Bereits zum zweiten Mal in Münster zu gast ist das Projekt Feien Trinkers Bei Pinkels Daheim, welches mit defekter Alltagselektronik und gekidnappten Heimgeräten eine knackige DIY-Industrial-Musik spielt. Der Schweizer Antoine Chessex ist als Komponist und Interpret ein Grenzgänger zwischen dem experimentellen Underground und der Neuen Musik. Er präsentiert heute ein Stück für Treated Saxophon und elektronische Zuspielungen. Geräuschwelten wird gefördert durch das Kulturamt der Stadt Münster.
Weitere Informationen/Infoline & Bildmaterial
aufabwegen/Till Kniola
Tel.: 0221-2720055 – Fax.: 0221-2720056
E-Mail: zipo@aufabwegen.com
Informationen
GERRITT WITTMER (USA)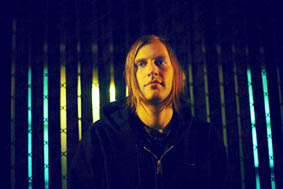 Gerritt Wittmer is a sound and performance artist based in Oakland, California. His work often articulates abstract narratives through vocal expression, body performance, and intense theatrical lighting. He has performed and recorded as Gerritt, Ginnungagap (with Stephen O'Malley and Tim Wyskida), Deathroes (with Sixes), and has performed and/or collaborated on projects with Sunn O))), Sissy Spacek, John Wiese, and Paul Knowles. He also directs the publishing house Misanthropic Agenda.
1996 Gerritt Wittmer began recording music.
1998 Gerritt creates the Misanthropic Agenda label and released the compilation Sadomachinism CD 2000 Misanthropic Agenda released the Bastard Noise/Gerritt split 7 inch (MAR002).
2001 Gerritt focuses on his own recordings and taking the label to new heights. Misanthropic Agenda released the series of Merzbow Frog related releases (MAR003, MAR004, MAR006) including Merzbow-Frog "Remixed and; Revisited" 2xCD a compilation curated by Gerritt.
2002 Gerritt was invited to play a couple of shows in Texas with Isis, and Dalek.
2003 Gerritt did an extremely successful west coast tour with John Wiese. The pacific
northwest portion saw D. Yellow Swans joining the tour for several shows. A special unplanned show
occurred in Seattle when the doom/ambient metal super group Sunn0))) asked Gerritt to play as a
member for a night.
2004 Gerritt toured the north east US. On this tour he played a live collaboration set with
Stephen O'Malley on guitar (Sunn0))), Khanate, Lotus Eaters, etc..), and Tim Wyskida (Khanate) on
Timpani drums and Gong! The recording from this event was released as: Ginnungagap "Return to
Nothing" (MAR009).
Gerritt moved to California, currently residing in Oakland.
Gerritt and John Wiese both joined up with SunnO))) again for a show in San Francisco, and Gerritt played a couple more shows on tour with Isis in southern California.
On MLK Jr. day, 2004 Gerritt teamed up with Axolotl and D. Yellow Swans for a collaboration that was
recorded and later released on the Jyrk label.
2005 Gerritt appeared on the LHD "Triple Void" 12″ with John Wiese and Phil Blankenship. P-Tapes
released the Gerritt "Chill Pill" 3″. Gerritt appears on and helped mix the D. Yellow Swans, "Psychic Secession" CD/LP.
Misanthropic Agenda released the John Wiese produced, Gerritt "Space Level Blaze" CD. (MAR010)
2006 Gerritt did a successful west coast tour with Sixes/Jason Zeh/2673. Misanthropic Agenda released the Gerritt & John Wiese "Disappearing act" CD and Troniks released the Gerritt "Infernal Devices" LP. The super group DEATHROES consisting of Gerritt and Sixes (aka Ryan Jenks) was formed.
2007 Deathroes released there debut CD "Hate Fuck" on Troniks, and debut vinyl LP, "Final Expense" on No Fun Productions/Misanthropic Agenda. Misanthropic Agenda also released the Gerritt "Proof of Powers" LP just before DEATHROES embarked on a full US tour wich included playing at the No Fun Fest in Brooklyn. Misanthropic Agenda released "Flash Vault" a split 7 inch of Gerritt and Manpack Variant. Later in 2007 Gerritt & John Wiese did a collaboration tour of the West Coast.
2008 Gerritt hit the road once again with DEATHROES. John Wiese joined up as part of the DEATHROES
team as the trio did a South West US tour. Later in the year DEATHROES did an extensive full European tour, including their infamous show at LUFF, the Lausanne Underground Film Festival.
2009 Gerritt and Paul Knowles began collaborating by creating a performance piece called "The Great Work!"
Audiences were instantly won over and now plans for a full US tour with Sissy Spacek in 2010 are in the works.
Select Discography: 1998 V/A Sadomachinism CD (MAR000)
2001 Bastard Noise/Gerritt split 7 inch (MAR002)
2003 V/A Merzbow-Frog "Remixed and Revisited" 2xCD (MAR006)
2003 Gerritt/John Wiese "tour" split 7 inch (MAR007)
2004 Gerritt "…sails the sea of displacement" 12 inch (DIE007)
2004 Ginnungagap "Return to Nothing" CD (MAR009)
2005 Axolotl/D. Yellow Swans/Gerritt CDr/LP (Jyrk/Root Strata)
2005 LHD "Triple Void" 12″ (Wiese/Blankenship/Gerritt) (chondritic)
2005 Gerritt "Chill Pill" 3 " CDr (p-tapes)
2005 Gerritt "Live in the Air" CDr (troniks)
2005 Gerritt "Space Level Blaze" CD (MAR010)
2006 V/A California 10xLP boxset (Troniks/RRR/Groundfault)
2006 Yellow Swans "Psychic Secession" CD (LOAD)
2006 Gerritt & John Wiese "The Disappearing Act" CD (MAR014)
2006 Gerritt "Infernal Devices" LP (Troniks)
FEINE TRINKERS BEI PINKELS DAHEIM (D)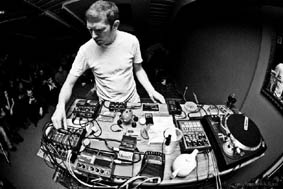 Ursprünglich kommt J. Eberhard aus dem äußersten Südwesten der Republik, Lörrach. Ins Exil nach Bremen kam er, nachdem ihm die Stadtväter unter dem Vorwurf, ein badischer Unabomber zu sein, eine Bannmeile um seine alte Heimat zogen. Kerosin, Rohre, Metall, Schrauben wurden gefunden. Ein Höllengerät machte ohrenbetäubenden Krach. Das reichte aus. Was die Ordnungshüter nicht glauben wollten, war, dass es sich um Musikgeräte der Feinen Trinkers Bei Pinkels Daheim handelte. Lange sind die Trinkers nun schon in Bremen und kommen alle paar Jahre mal wieder aus dunklen Souterrain-Wohnungen ohne Fenster mit Lebenszeichen in Form von CDs und Schallplatten mit klangvollen Titel wie »Hungerhakens Speckrolle«, "Apfelmost und Essig" und (unser derzeitiger Favorit) "Wellen falscher Blondinen" hervor. Allesamt eine Wucht, Handwerker-Drone und Selfmade-Noise. Das Kerosin wurde konfisziert, der Heimwerker- und DIY-Hometaper-Ethos bleibt.
http://feinetrinkersbeipinkelsdaheim.blogspot.com/
ANTOINE CHESSEX (CH)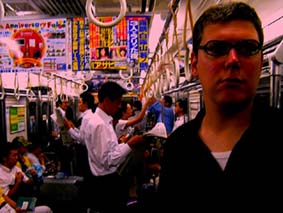 Antoine Chessex is a composer and sound artist born in 1980 in Vevey, Switzerland, with a background as a saxophone player and performer. His sonic researches include compositions for ensembles, solo works, transdisciplinary collaborations and sound installations . Chessex´s works are based on the exploration of the physicality of sounds and spaces and deal with acoustic as much as electronic and electroacoustic mediums.
His solo works feature dense layers of sustained pitches reacting with the architecture of the space or massive clouds of amplified sax resulting in intense live actions in total immersion in the sound.
He presents his works worldwide and appears at numerous international festivals and venues in the U.S.A, Russia, Japan, China and all around Europe.
Recent compositional works include "DUST" for 3 violins and electronics, "Resonant Water" a site specific chamber music piece for ensemble, "Metakatharsis" commissioned by the Phoenix Ensemble in Basel and "CHUTE" commissioned by the Kammerensemble Neue Musik Berlin (2011) as well as numerous electronic music pieces.
Collaborations with musicians like Lasse Marhaug, Zbigniew Karkowski, Jérôme Noetinger, Maja Ratkje, Chris Corsano, Ilios, Valerio Tricoli, C. Spencer Yeh, Axel Dörner, Hans Koch, Robin Hayward, Thomas Ankersmit, Lucio Capece, Dave Phillips, Kasper Toeplitz, Burkhard Beins, Monno, Didi Bruckmayr, architect Christian Waldvogel and media artist Ulrike Gabriel.
"Chessex is a key in Europe´s experimental music community" Transmediale festival.