Mo. 24.09.2012,
Einlass: 20.00h, erstes Konzert: 20.30h
Eintritt: AK 10 /  VVK 8 EUR
aufabwegen präsentiert: broken sound #13
Contagious Orgasm (JAP)
Noise and ecstatic ambient from Kobe / Ant-Zen
&
Aidan Baker (CAN)
Canadian Master of psych-out guitar drones
&
Chikashi Miyama (JAP)
Inventor of motion-sensor synthesizers
Stadtgarten (Saal)
Venloer Str. 40, 50672 Köln
"broken sound" ist die Konzertreihe in Köln, bei der es konsequent um die musikalischen Ränder geht. Drei Ansätze des Experiments werden heute vorgestellt: Chikashi Miyama stellt seine selbstgebauten Motion-Sensor-Synthesizer in Kombination mit Live-Video-Manipulation vor. Formal stringent und durchdacht. Hyperaktiv ist der inzwischen in Berlin lebende Drone/Shoegaze-Guitarist und Experimentator Aidan Baker, der in der Tiefe des Klangs zu versinken scheint, mit jeder neuen Inkarnation (Nadja, Arc, etc.). Contagious Orgasm ist das Projekt von Hiroshi Hashimoto, ein echtes Kind des Noiseundergrounds in Japan. Die Musik schwankt zwischen mit kruden Samples angereichertem Industrial-Ambient und rhythmischem Noise. Inzwischen beim renommierten Ant-Zen Label gelandet.
"broken sound" wird kuratiert von Till Kniola/aufabwegen und gefördert durch das Kulturamt der Stadt Köln und das Ministerium für Familie, Kinder, Jugend, Kultur und Sport des Landes Nordrhein-Westfalen.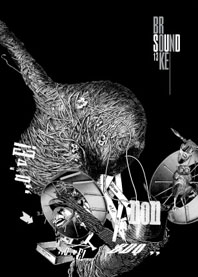 CONTAGIOUS ORGASM
Hiroshi Hashimoto
Active since 1987, Japan's Contagious Orgasm has been active in many intersecting and diverse areas of experimental electronic music, including noise, industrial, rhythmic noise, and ambient. C.O. Play a mixture of noise, filmic ambient and rhythmically intricate structures. First time in Cologne!
Sites:
http://geocities.jp/coolanatomy/0000co.html
AIDAN BAKER
Aidan Baker is a classically trained musician in flute, self-taught on guitar, drums, and various other instruments. As a solo artist, Baker explores the deconstructive sonic possibilities of the electric guitar, creating music that ranges from and incorporates elements of experimental, ambient, jazz, metal, post-rock, and contemporary classical music. In addition to his solo work, Baker also performs with the following ensembles: Nadja, Whisper Room, Infinite Light Ltd., Adoran, B/B/S/, and ARC. He has composed and performed work of a more classical nature for the The Penderecki String Quartet, The Riga Sinfonietta, and The Monday Morning Singers.
A highly prolific artist, Baker has toured around the world and over the course of the last decade  released numerous albums in various formats on independent labels from around the world. He is also the author of four books of poetry and has published poetry, short fiction, and criticism in literary and scholarly journals.
Originally from Toronto, Canada, Baker currently resides in Berlin, Germany.
A Selected Discography of Recent Releases:
Aidan Baker – Already Drowning – Gizeh Records (cd/lp) – forthcoming
Aidan Baker & Richard Baker – Smudging – Backwards Records (lp) – forthcoming
Aidan Baker – Loop Studies – Paradigms Recordings (2cd) – 2012
Aidan Baker – The Spectrum Of Distraction – Robotic Empire (2cd) – 2012
Aidan Baker – Bach Eingeschaltet – Vierter Band – Reue Um Eeue (7″) – 2011
Aidan Baker – Only Stories – Broken Spine Productions/The Kora Records (lp) – 2011
Nadja – Dagdrøm – Broken Spine Productions (cd/lp) – forthcoming
Nadja – Excision – Important Records (2cd) – 2012
ARC – Somewhere There – Beta-Lactam Ring Records (lp) – 2012
http://brokenspineprods.wordpress.com/
CHIKASHI MIYAMA
Chikashi Miyama ist ein Komponist, Video Künstler, Interface Designer, Autor und Performer. Er erhielt einen MA (2004) der Kunitachi Hochschule für Musik (Japan), ein Nachdiplom (2007) von Musikakademie der Stadt Basel (Schweiz), und einen Ph.D der University at Buffalo, New York, USA (2011). Seine Kompositionen gewannen einen ICMC Preis, einen zweiten Preis in SEAMUS Wettbewerb (2010/USA), einen Sonderpreis in Destellos Wettbewerb (2009/Argentinen), und eine ehrenvolle Erwähnung im legendären Bourges Elektroakustik Musik Wetberwerb (2002/Frankreich). Seine Werke wurden von ICMC 12-mal, von NIME 4-mal akzeptiert, und von verschiedenen internationalen Festivals in 18 Länder ausgewählt. Im Jahr 2011 erhielt er das DAAD Stipendium und arbeitete bis Juni 2012 als ein Gast-Künstler/Forscher bei ZKM / IMA, Karlsruhe. Er wohnt jetzt in Köln als freischaffender Künstler.
Webseite: http://chikashi.net
Flyer: Robert Schalinski