21.10.2012, 20:30h, Eintritt: 5€
KGNM myCage Reihe #2:
45'18" – ein Off-Cage Abend kuratiert von aufabwegen
KAPOTTE MUZIEK live
Frans de Waard lecture
LOFT
Wissmannstr. 30
50823 Köln
www.loftkoeln.de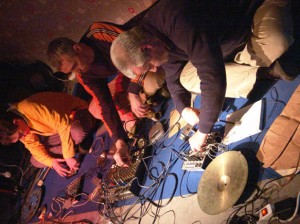 Frans de Waard:
45'18 – a lecture on John Cage
Exactly ten years ago Korm Plastics released a CD with 9 versions of '4'33' by John Cage, following an idea by Roel Meelkop, compiled by Jos Moers and liner notes by Frans de Waard. Music by Keith Rowe, Artificial Memory Trace, Thurston Moore, Pauline Oliveros, Jio Shimizu, Voice Crack, Clive Graham, Toshiya Tsunoda and Alignment. "Almost unobtainably obscure" according to Kyle Gann in 'No Such Thing As Silence'. A lecture by Frans de Waard on '4'33', including music examples from the CD and performance of a busy man (0'00 for a busy man) working on many things at the same time.
Biographies:
Frans de Waard (1965) has been producing music since 1984. First as Kapotte Muziek, but throughout the years, he also worked as Beequeen (with Freek Kinkelaar), Goem (with Roel Meelkop & Peter Duimelinks, both of whom are also a member of Kapotte Muziek these days), Zebra/Wieman (with Roel Meelkop) and such solo projects as Freiband, Shifts as well as his own name. He has worked for Staalplaat (1992-2003) and since 1986 as a reviewer for his own publication Vital, now only Vital Weekly, an online music magazine, which has been the online source for underground music since 1995. In February 2007 he played various solo concerts as Goem|FDW in Japan, as part of a package tour with Pan Sonic. Frans de Waard also likes to play sets of improvised music with whoever is available, just as he did with people like Guiseppe Ielasi, Jaap Blonk, Howard Stelzer, Roel Meelkop, Andrew Liles, Radboud Mens and the mayor of his home city Nijmegen. In 2008 film maker Harrie Timmermans made a small documentary about his work with Kapotte Muziek under the title 'What You See Is What You Hear'. He has given workshops and lectures at various places, such as Extrapool, the art academy of Maastricht en 's-Hertogenbosch, the Glinka Conservatorium in Moscow and Lithuania. With Scott Foust he formed the duo The Tobacconists in 2009 and with Wouter Jaspers the duo Ezdanitoff in 2010.
De Waard is a part-time sound curator working for Extrapool (Nijmegen, The Netherlands) hosting the 'Brombron' project and initiator of the 'Audiotoop' project.
Kapotte Muziek is an electro-acoustic trio of Frans de Waard, Peter Duimelinks and Roel Meelkop. They play live concerts and never make studio recordings.
During live performances Kapotte Muziek explore the minimum input of acoustic sound to a maximum extent. All sounds originate from obsolete materials that we have found in the course of our activities. Every performance is preceded by a 'junk search' to obtain new sound material. In the past we have used metal (from very small to very big), wood, paper, plastic, glass, stones etc. Every object is thoroughly explored for its sound qualities, amplified either by microphone or by contact-microphone. This is combined live with pre-recorded sounds of acoustic, environmental and electronic origin. In this line-up Kapotte Muziek exists since 1995. From 1993 to 1995 Kapotte Muziek were just Peter Duimelinks and Frans de Waard. Duimelinks and Meelkop are also a member of THU20 aswell as actively involved as solo musicians. De Waard also plays with Beequeen, and solo as Freiband and Shifts.
Since 1993 Kapotte Muziek have played nearly 100 concerts around the world, including the USA, Canada, Japan and most European countries. They have played art-galleries, museums, squats, radio stations and rock clubs. Some of these concerts were part of a workshop, given by the members of Kapotte Muziek to untrained players, showing them how to produce sounds by amplifying and playing objects and making field recordings. They also played spontaneous concerts with people like Illusion Of Safety, Edwin van der Heide, Rumpeln, Co Caspar, the R.I.P. and others.
Since 1997 they commision reworks of their concerts, which were first released as a 7″ and these days on CD. People included are Thurston Moore, Asmus Tietchens, Troum, Illusion Of Safety, Lasse Marhaug, Leif Elggren, Stavostrand/Wiklund, Radboud Mens, Boca Raton, Toshiya Tsunoda, Richard Chartier and Stephan Mathieu.
From 1984 up to 2003 Kapotte Muziek was also a solo studio project by Frans de Waard, who as such released a whole bunch of cassettes, LPs, CDs and CDRs. A complete discography can be found here:
http://www.beequeen.nl/de_Waard/disc/kapotte_muziek_disc.htm
In 2003 the last release was 'Curing Without Killing', after which De Waard stopped playing solo as Kapotte Muziek.
A selective discography by Kapotte Muziek (as a trio):
1. Add (Staalplaat, 3″CD)
2. Mort Aux Vaches (Staalplaat, CD)
3. Columbus, Ohio (Gameboy Records, CDR)
4. Praag/Rotterdam (Pac Rec, CD)
5. Tsurumai (Intransitive Recordings, CD, a collaboration with Lethe)
Photo: Frans de Waard