GERÄUSCHWELTEN Festival 2013
Münster, Germany
06.12.2013, 16.00h + 08.12.2013, 11.00h
MÜNSTER SOUND WALKS
Curated by Ross Parfitt + Jennifer Iker
Led by Parfitt/Iker/Kniola
Anmeldung unter 0177-8251684 / Reservation at 0049-177-8251684
06.12.2013 – 08.12.2013, 10-18.00h
SOUND INSTALLATION / KLANGINSTALLATION:
Daniela Fromberg & Stefan Roigk
"to Alice's right foot, esq., hearthrug, near the fender (with sparkling love)"
06.12.2013, 20.00h
VORTRAG/LECTURE
Peter Cusack (UK): "Sounds From Dangerous Places"
at
Institut für Ethnolgie
Studtstr. 21
48149 Münster
07.12.2013, 20.00h
KONZERTE/CONCERTS
STEVEN STAPLETON & COLIN POTTER (UK)
(members of Nurse With Wound)
SCANNER (UK)
MOHAMMAD (GR)
08.12.2013, 20.00h
KONZERTE/CONCERTS
DIETER MOEBIUS (CH) + ASMUS TIETCHENS (D)
JONATHAN COLECLOUGH (UK)
ROBERT HAMPSON (UK)
Concerts at:
Blackbox/cuba-cultur
Achtermannstr. 12
48143 Münster
Sound walks, lecture and sound installation = FREE
Concerts: Tickets per night = 12 EUR, 2-day-ticket = 20 EUR
Reservation: zipo (at) aufabwegen (dot) com
LECTURE / Vortrag in englischer Sprache
06.12.2013, 20.00h, Eintritt frei!
PETER CUSACK: "Sounds From Dangerous Places"
Institut für Ethnologie der WWU Münster
Studtstr. 21
48149 Münster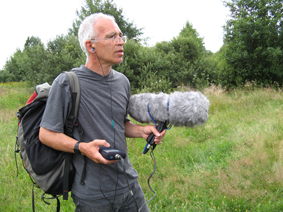 Peter Cusack arbeitet als "field recordist", Klangkünstler und Musiker. Sein Hauptinteresse liegt im Bereich der "acoustic ecology". Sein Vortrag im Rahmen des Geräuschwelten Festivals behandelt die sogenannten 'Sounds From Dangerous Places'. Hierbei reist Cusack an Orte, die durch besondere Zerstörung geprägt sind (z.B. in die Sperrzone von Tschernobyl) und macht dort in einer Art "sonic journalism" Aufnahmen von Natur, Menschen und Maschinen. Zu diesem Projekt erschien 2012 eine Buch/CD-Veröffentlichung, herausgegeben vom DAAD und ReR. Peter Cusack ist research fellow in 'Sound Arts & Design' am London College of Communication und produziert Radioprogramme zur acoustic ecology für Resonance FM. Er hat zahlreiche CDs veröffentlicht. Als Musiker war er in den 1970er Jahren vor allem in der Londoner Improvisationsszene aktiv und war u.a. Mitglied der legendären Gruppe The Alterations um David Toop und Steve Beresford.
Peter Cusack works as a field recordist, sound artist and musician with a special interest in acoustic ecology. He initiated the "Favourite Sounds Project" to discover what people find positive about their everyday sound environment and 'Sounds From Dangerous Places' (described as sonic journalism) that investigates the soundscapes of sites of major environmental damage such as the Caspian oil fields and the Chernobyl exclusion zone.
He produced 'Vermilion Sounds' – the environmental sound program – for ResonanceFM Radio, London, is a research fellow in 'Sound Arts & Design' at the London College of Communication and was DAAD artist-in-residence in Berlin during 2011/12, where he instigated 'Berlin Sonic Places' a wide-ranging collaborative project that examines the relationship between urban soundscapes and city development.
CDs include Your Favourite London Sounds (Resonance); Baikal Ice (ReR PC2); Favourite Beijing Sounds (KwanYin 022); Sound from Dangerous Places (ReR PC3&4);
Favourite Berlin Sounds (ReR PC5).
Foto: Peter Cusack
http://favouritesounds.org
http://sounds-from-dangerous-places.org/
http://sonic-places.dock-berlin.de/?lp_lang_pref=en&page_id=6