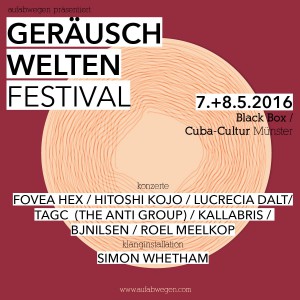 07.-08.05.2016
aufabwegen presents:
— Geräuschwelten Festival 2016 —
07.05.2016, 20.00h
Concerts by:
Fovea Hex (Ireland/UK)
Lucrecia Dalt (CO)
Hitoshi Kojo (JP)
08.05.2016, 18.00h (!)
Concerts by:
TAGC (The Anti Group) (UK)
BJNilsen (SE)
Kallabris (D)
Roel Meelkop (NL)
price per night: 15,00 EUR, 2-day festival ticket: 25,00 EUR
concert venue:
Black Box/cuba-cultur, Achtermannstr. 12, 48143 Münster, Germany
Tickets on the door or in presale via zipo [ at ] aufabwegen . com
PLUS:
Sound installation "sweep" by Simon Whetham
Cuba-Cultur-Foyer, Achtermannstr. 12, 48143 Münster
Running from 06.-29.05.2016, 10-21 Uhr
Opening with a free concert by Simon Whetham: 06.05.2016, 19.00h
############################
ARTIST BIOS:
FOVEA HEX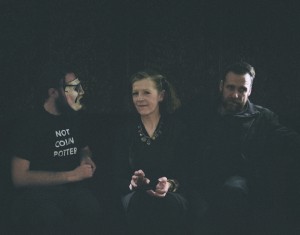 PLEASE NOTE:
For the special one-off concert in Münster the FOVEA HEX line up will consist of Clodagh Simonds and Michael Begg, mixed by Colin Potter.
Fovea Hex are one of the most intriguing phenomena in contemporary music. Despite the seemingly wilful nonchalance that has kept them under the radar so far Clodagh Simonds visionary ensemble has nevertheless developed an enviable cult status both in Europe and the United States, have performed at the personal invitation of David Lynch in the gardens of the Cartier Foundation in Paris and have attracted the free and willing participation of a genre and generation hopping rollcall of A-list luminaries including Brian Eno, Robert Fripp, Carter Burwell, Donal Lunny, and Steven Wilson, as well as a who's who of the electronic avant-garde including Roger Doyle, the Hafler Trio, William Basinski, Colin Potter and Michael Begg.
The frequently claimed "impossible to categorise" tag applies well to Fovea Hex. The songs are dominated by a voice that's too strong to be deigned ethereal, but remains too otherworldly to file alongside more conventional female singer-songwriters. The pace tends to be languid, the arrangements intricate and fragile. Comparisons have been made to This Mortal Coil, Emily Dickinson, Nico, Dead Can Dance, and even Schubert, but really this music is quite unique, a mix of electronic and acoustic sounds from a palette which ranges from state-of-art to ancient and arcane.
As Drew Daniels of Matmos observed "The starlit nocturnes of Fovea Hex bind electronics, drones and voices into song-spells that are untimely in the best possible sense; their intimacy and raw emotional power feel centuries old, but the experimental sound-design can be shockingly modern."
The shape-shifting nature of Fovea Hex has seen the ensemble assume a variety of performance formats. For this concert, the outfit has been boiled to a rich, intimate reduction of Clodagh Simonds, Michael Begg and Colin Potter
Photo: Fovea Hex
www.janetrecords.com
foveahex.bandcamp.com
PERFORMING ON MAY 7th.

LUCRECIA DALT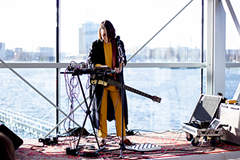 Lucrecia Dalt dove into music full-time after working as a civil engineer in Colombia – her pursuit of avant-garde sound brought her to Spain and then to Germany, where she currently resides. While highly technical, Dalt's music still maintains a quantity of emotionality, merging accessible, melody with abstract structures, handcrafted effects and sampling.
In recent years, Dalt has collaborated with Berlin's F.S. Blumm, Barbara Morgenstern, Gudrun Gut, L.A.-based musician Julia Holter and most recently with the group comprised of Rashad Becker, Charlotte Collin, Lucrecia Dalt, Laurel Halo, Julia Holter, Kohei Matsunaga (a.k.a. NHK'Koyxen), and Grégoire Simon for a telepathic collaboration.
After several underground releases, in 2012 Dalt debuted her first LP, Commotus, on Berlin-based Human Ear Music, a label known for backing genre-bending experimentalists Ariel Pink, Nite Jewel, Julia Holter – the title of the album fittingly translates to "woken", "agitated" or "disturbed", reflecting the music's ability to seamlessly, almost-cinematically shift in mood, from minimal and ethereal to multi- layered and wild. Dalt stuck with the label for 2013's Syzygy, a record that dwells in melancholy, assaulting listeners with unfamiliar electronics. Rhythms hammer into the slabs of sound with precision, sequenced tones aggressively stamp indentations into the stiff frame. In 2014 she releases the self-titled EP on Nicolas Jaar imprint "Other People", following and expanding upon the line of thought put forward in her 2013 album Syzygy, Lucrecia Dalt ends in a place familiar, yet noticeably different. Its two tracks, 'Esotro' and 'Veta', continually defy expectation — haunting vocal ballads that trickle into clouds of white noise — but for an acquainted listener that won't surprise. In 2015 Lucrecia is set to release her upcoming LP on the berlin-based label Care of Editions as part of a scholarship granted by Music Board Berlin. This LP is the result of working in music which engages the history of modern filmmaking in Germany and build upon an ongoing technique used in her work, which is to provoke some entanglement between the emotional dynamic experienced during the viewing of a film, and what is experienced during the music production process.
Photo: Françoise Bolechowski
lucreciadalt.tumblr.com
PERFORMING ON MAY 7th.
HITOSHI KOJO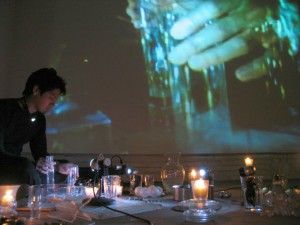 Hitoshi Kojo is a Japanese sound-painter who currently lives in Belgium.
He has been working with multiple media – music composition, installation, performance, painting, sculpture, video, photo and those mixtures.
The extensive activities are based on his animistic sensitivity that all the matters and the spaces have their own memories.
Touching the objects, Talking to animals and plants, Resonating with atmosphere in the space. Such daily activities since the childhood are the basis of his works.
Since the move to Europe in 2004, the sound works such as making compositions, concerts, recordings have been placing more weight than other activities.
His sound works are typically formed by dense layers of textures and tones, that are carefully arranged in the space.
The sound of nature, noise, voice, instruments, etc. all the sounds are equally treated, and become elements to forming a molecular harmony in the sonic space that presents micro and macro-scape at the same time.
His music physically osmoses into the body of listeners and makes continuous fluctuations to their physical barrier. In that sense, the listeners can become a part of the sonic universe while listening to it.
Therefore he does not consider his recording only as a piece of composition nor as a document of a work, but also as a prepared material that can unfold a sound installation in any location.
His sound compositions have been released by experimental music labels such as Drone Records (Germany), Mystery Sea (Belgium), Kaon, Taâlem (France), Helen Scarsdale Agency, Alluvial Recordings, Olde English Spelling Bee, Peasant Magik (USA), etc, as well as his own label Octpia (until 2006) and omnimemento.
Several compositions were released by aliases, mostly as Spiracle until 2010.
Photo: Hitoshi Kojo
www.omnimemento.com/kojo/
PERFORMING ON MAY 7th.
TAGC (The Anti Group)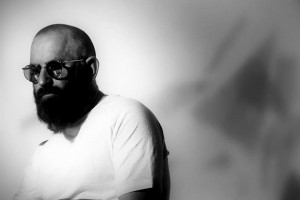 TAGC – THE PARADIGM OF INFINITE POSSIBILITIES
By Dir A Newton
TAGC are not affiliated to any one system of philosophy or epistemological paradigm or occult fraternity but are open more to individual systems and innovative thinkers. Science, Art, Music Sonology, Visual Arts, Literature, Research & Publication are its main areas of focus. Our aim is to highlight and discover new connections and correspondences between systems of thought and the systems of technics similar to Bernard Stiegler's concept of technics which has emerged recently as an important contribution to studies of the relation between technology, time and the human spirit, by exploring the possibilities of the technology of spirit, to bring forth a new "life of the mind".
The original idea for the Anti Group was devised by A. Newton & S.J. Turner (R.I.P) as early as 1978, with the intention of the formation of a multi-dimensional research & development project active in many related areas. Strictly speaking TAGC are not a group, but a variable collection of individuals contributing under invitation.
Underlining this basic idea lays the deeper philosophical and theoretical work of TAGC; the C derived from Communications and to also infer the DNA code of genetics. The primary concern of TAGC is the systematic research and development and documentation and the expansion of the connections and concepts that are explored and experimented within the fabric of sound, and its theoretical possibilities and its advancement. Also the expansion of Consciousness wether via applied use of computers and audio-visual technology or via arcane systems of Magick or other Occult or esoteric sciences.
In the Occult field of study the work and ideas of such individual thinkers such as Kenneth Grant, Beverly Randolph Paschel, Micheal Bertiaux and Jack Marvel Whiteside Parsons have been a focus, but the areas of investigation are not restricted to esoteric or occult fields. As an audio visual and research organization the role of TAGC is within several practional areas, and from very early in the formational period of TAGC the application of Psychophysics and the development and the use of frequencies and Psychoacoustics, exploring the theoretical ideas of Harry Grindal Mathews, Vladimir Gavreau Gustave Fechnor et al, have been engaged upon.
Photo: Gabriel Edvy
www.anteriorresearch.com
PERFORMING ON MAY 8th
BJNILSEN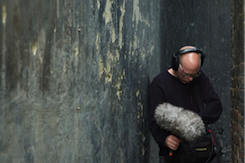 BJ Nilsen (b.1975) is a Swedish composer and sound artist based in Amsterdam.
His work is primarily focused on the sound of nature and its effects on humans. His two latest solo albums was released by Touch; Eye Of The Microphone (2013) – a personal audio rendition based on the sound of London – and The Invisible City (2010), have explored the urban acoustic realm. unearthed (2015) – an audiovisual production exploring the industrial soundscapes of north Norway and Russia, together with filmmaker Karl Lemieux and commissioned by Sonic Acts. He has collaborated with Chris Watson on Storm and Wind, released by Touch (2006, 2001). His original scores, sound design and soundtracks have featured in theatre, dance, and film, including Microtopia and Test Site (2013, 2010, dir. Jesper Wachtmeister), Enter the Void (2010, dir. Gaspar Noé), and, in collaboration with Jóhann Jóhannsson, I am here (2014, dir. Anders Morgenthaler) and Sicario (2015, dir. Denis Villeneuve. DTLA (2015) a 16 channel sound installation based on the soundscape of downtown Los Angeles, commissioned by The Broad Museum. Participant in the freq_out sound collective. Co-editor of the publication The Acoustic City (2014, jovis verlag) together with Matthew Gandy – a compilation of essays focusing on sound in an urban context enabled by The Leverhulme Trust.
Photo: Hiyeon Kim
www.bjnilsen.com
PERFORMING ON MAY 8th
KALLABRIS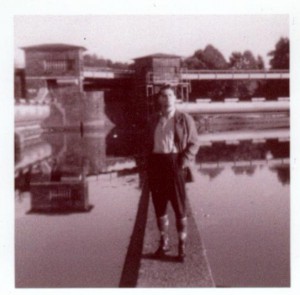 Since the mid 80s Kallabris has been musically active, at least from time to time. However, most of the time it was rather passive – or active only in a very casual sense of 'active.' Its music has been described as electro-acoustic chamber music, which should be taken literally and not as an art-tag. Neither art nor tags are part of Kallabris' interest. Even though Kallabris' interest has changed through the active and passive years, there has always been one corner-stone: simplicity. Unfortunately, 'simplicity' is a term not easily defined. Simple ontologies may ask for complex theories, and simple theories usually require complex ontologies. But even worse: the simplest solution very often means hard work and good craftsmanship. Attributes, no-one in his right mind would dare to predicate to Kallabris, even though Kallabris believes in the completeness of first-order logic (including existence) and, thus, is fully aware that attributions of this kind are justifiable.
Kallabris has sometimes been identified with a person called Michael Anacker. No entity without identity, says scholastic metaphysics. But Kallabris is no entity, nor is Kallabris a person. Thus, we conclude, this identification is only a marketing trick.
Photo: Dr. Ariane Eckregen
www.kallabris.de
PERFORMING ON MAY 8th
ROEL MEELKOP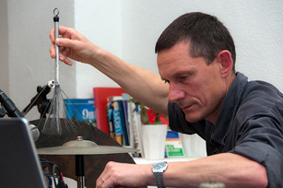 Roel Meelkop (1963) studied visual arts and art theory at the Willem de Kooning Academy in Rotterdam, The Netherlands. During a post-graduate course at the same academy he decided to dedicate his work to sound and music. His musical activities date back to the early eighties when he started THU20, together with Jac van Bussel, Peter Duimelinks, Jos Smolders and Guido Doesborg. THU20 have released several tapes and CD's and performed regularly in Europe. The working method of THU20 included many discussions about how to compose and why. This period was crucial in forming Meelkop's ideas and concepts about sound and how to organise it, but it was not until the mid nineties that he was able to fully realise these ideas. The purchase of a sampler and later a computer radically changed his possibilities of working with sound, offering infinitely more control and freedom. Since then he has worked steadily on a body of work, most of which was recieved enthusiastically in the small but dedicated world of sound art. His other activities include working with Kapotte Muziek and GOEM and organising sound events, mostly in Rotterdam. Aside from releases, Meelkop also creates site-specific sound installations and performance pieces in collaboration with other artists. In the last couple of years he has focussed more on collaborations with other musicians and (visual) artists. One particular collaboration is with Frans de Waard, also known from Kapotte Muziek and GOEM. They now work together as Wieman, a project that combines all their musical interests, from noise to classic, from pop to avantgarde, from improv to composed.
Photo: Roel Meelkop
http://www.outside-sounds.com/roel-meelkop/

SIMON WHETHAM
06.05.2016, 19.00h
Free concert by Simon Whetham and opening of Simon Whetham's sound installation "sweep".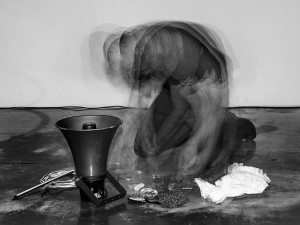 'Sweep' 2015
Found objects, microphones, transducers – dimensions variable.
Initially conceived for 'The Windswept Plain' residency group exhibition for Iksan Creation Center, 5-14 August 2015 at Art Space of Jeollabukdo Provincial Government, Jeonju, South Korea.
Commissioned to exhibit work for the exhibition, Simon Whetham took the title of the show as inspiration for this installation. The title 'Sweep' here also refers to the dustpans used as sound makers and also the movement of the fan.
Oscillating fans are ubiquitous in restaurants, homes and other spaces in South Korea, as compared to the UK and other countries Whetham has worked in. The force of air from the fans is transformed into vibration with the use of transducers and found objects, creating sound from the object itself. This is a literal translation of transducing, converting energy to another form.
Simon Whetham – Biography 2016
Over the past decade Simon Whetham has developed a practice of working with sound recordings as a raw material for composition and performance. These are often environmental sounds he has captured employing a variety of methods and techniques, in order to obtain discreet or obscured sonic phenomena. More recently, when presenting work in a performance or installation, for him the space and the objects within become instruments to be played.
Simon has a number of works published through labels including Crónica (PT), Line (USA), Baskaru (FR) and Helen Scarsdale Agency (USA); performed extensively internationally (most recently Iceland, South Korea, Japan, Malaysia); collaborated with musicians, performance artists, painters, video artists and dancers; given listening and field recording workshops in UK, Estonia, Colombia, Chile and Australia; and received a large number of commissions and awards for projects and installations – most notably for curating the collaborative project 'Active Crossover'.
The most recent iteration of the project was hosted by MoKS in Mooste, Estonia and supported by the Artists International Development Grant from the British Council and Arts Council England. For two months Simon and MoKS directors Evelyn and John Grzinich were joined by a further 12 international artists in sonic investigation, discussion and creation of new working relationships.
Previously supported Arts Council England and PRS for Music Foundation, the project has toured in the UK, and been hosted in Argentina, Chile, Colombia, Germany, Norway and Australia.
In a further development of Simon's practice, he has given workshops for groups of children and young people. This began with the participation in the project RED de Artes Visuales in Medellín, Colombia in 2013, and has led to workshop sessions with children in Norway, Australia and South Korea, and with unaccompanied minors in a refugee camp in Munich, Germany.
Photo: Kim JaeYoung
www.simonwhetham.co.uk
The sound installation will be running from 06.-29.05.2016 in the Cuba-Cultur-Foyer. It is part of the project "Hör Spiel".
Projekt Hör–Spiel, gefördert von Ministerium für Familie, Kinder, Jugend, Kultur und Sport des Landes NRW, Kulturamt der Stadt Münster und Sparkasse Münsterland-Ost.