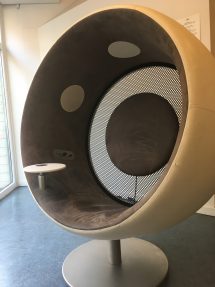 23.03. – 06.05.2018
aufabwegen präsentiert:
— Sonic Chair III —
Vier exklusive Klangstücke für einen Sonic Chair
von:
Artificial Memory Trace (Irl)
Colin Potter (UK)
N(64) (D)
Das Synthetische Mischgewebe (F)
Eintritt frei
Die Klangstücke sind zu hören im Foyer von
Black Box/cuba-cultur, Achtermannstr. 12, 48143 Münster
werktags 10 – 21 Uhr
INFORMATIONEN:
Die dritte Folge der Klangkunstreihe Klangstücke für einen Sonic Chair im Projekt Hör-Spiel wurde von Till Kniola/aufabwegen kuratiert. Er hat für die Bespielung des Sonic Chair im Foyer der Blackbox/Cuba Cultur vier internationale Künstler aus der Geräuschmusik-Szene eingeladen, die alle eigens für das Klangmöbel neue Stücke komponiert haben. Die Besucher sind eingeladen, sich den fließenden Soundströmen und bizarr verschachtelten Klangschaften hinzugeben. Die Beiträge bewegen sich zwischen abstrakt-krautigem, elektronischem Ambient, puristischen Field Recordings, geschichteten Gitarrendrones und aus manipulierten Alltagsgegenständen erwirtschafteten Geräuscherzählungen. Die vier Stücke können als durchlaufendes Programm angehört oder gezielt einzeln ausgewähl werden.
Klangstücke für einen Sonic Chair wird präsentiert im Projekt Hör-Spiel gefördert durch das Ministerium für Kultur und Wissenschaft des Landes Nordrhein-Westfalen, Kulturamt Münster in Zusammenarbeit mit der Klangkunst-Reihe soundwaves.
Informationen zu Künstlern und Stücken
Artificial Memory Trace, Mountshannon/Irland:
Memories of Now, 7:10 min., stereo, 2018
Composed in the whim of the moment – however especially for this chair, specially for my friend Till …
I was thinking about physicality of sounds and EMF (=electromagnetic fields) surrounding us, how midnight tonight was so still until sudden outburst of miss-functioned church bells disrupted it and how lovely are cracking sounds of muffled steps in the snow …
There is no other logic to this composition than compulsory fascination with a momentary thought process projected within this sound structure. You can hear also evolved fragments from free-style improvisation played together with Brendan Sanders (rattles and shepherds flutes) recorded a few weeks earlier echoing somehow in my mind.
Created by Slavek Kwi on the brink of the night 11th and morning 12th of February 2018 in Cave Studio in Mountshannon, Ireland.
Slavek Kwi (Artificial Memory Trace)
Slavek Kwi is a sound-artist, composer and researcher interested in the phenomena of perception as the fundamental determinant of relations with reality. He has a longstanding fascination with
sound-environments, developing what he terms 'electroacoustic sound-paintings' that oscillate between sound only works and interdisciplinary works exploring social, spatial and temporal
processes. These complex audio-based situations are created mainly from site specific recordings, resulting in subjective reports for radio broadcast, 'cinema for ears' for multi-channel playback, sound installations integrated into the environment and performances. From the early nineties Slavek has operated under the name Artificial Memory Trace. He facilitates experimental sound
workshops with autistic children and those with learning disabilities. The workshop technique emphasises extensive listening and the stimulation of creativity through observation and the
support of natural tendencies. Slavek was born in former Czechoslovakia, lived 14 years in Belgium and has been based in Ireland since 2000.
www.artificialmemorytrace.com
Colin Potter, London/England:
Are You Sitting Comfortably?, 6:59 min., stereo, 2018
Colin Potter
Colin Potter is a sound engineer and musician. He has been involved in the field of electronic and experimental music for over thirty years. Based at his own IC studio, he has recorded, produced and distributed a wide array of projects. He has gained a reputation for innovative mixing and sound processing, working with artists such as Current 93, Fovea Hex, Ora, Organum, Monos, Andrew Chalk, Jonathan Coleclough and, most notably, with Steven Stapleton on many albums by the renowned Nurse With Wound. Several solo works have been released, as well as many collaborations. In the late Nineties, a desire to return to live performance has led to appearances at the Beyond Music festival in Los Angeles, 7Hz in San Francisco, the Liverpool Biennial, the Termite festival in Leeds, the Earational festival in Holland, the Donau festival in Austria, Brainwaves in Boston, All Tomorrow's Parties, Ether festival at London South Bank, Villette Sonique in Paris, Radar festival in Mexico City, Settembre Musica in Turin, the AvantGarde festival in Hamburg and numerous international concerts.
N(64), Dortmund:
Berg_Fidel, 6:59 min., stereo, 2018
N (Hellmut Neidhardt)
N arbeitet mit dem Moment, mit dem Eindruck des Ortes, mit dem, was die Inspiration bewirkt. Unabhängig vorhergehender Planungen und Überlegungen entsteht so eine Musik, die sehr persönlich, sehr "innen" und sehr Ausdruck ist. N-Veröffentlichungen beziehen sich auf reale Orte, die sich im Namen der (durchnummerierten) Tonträger wieder finden.
N arbeitet seit 1997, dem Gründungsjahr des seitdem existierenden Projekts [MULTER] (mit Mal Hoeschen und Thomas Geiter) auf dem Gebiet experimentelle Gitarrenmusik. Im Gegensatz zu der Arbeit mit [MULTER], die analoge und digitale Arbeit und Verarbeitung verbindet und seit der Gründung in bisher 14 Tonträgern veröffentlicht hat, vermeidet N alle Formen von cut + paste und veröffentlicht ausschließlich Aufnahmen, die vollständig live entstanden sind. Ziel ist es, die Frische und Tiefe der Musik einzufangen, wie sie nur im Moment der Inspiration entstehen kann.
N verwendet dafür ein Gitarre-zwei-Verstärker-Setup mit einer Kette von Effektgeräten als verbindendes Element und lässt so eine Musik basiert auf warmer Tiefe entstehen; mal loopartig zurückhaltend und zerbrechlich, mal wie ein Unwetter die Hörer überrennend.
Seit 2001 sind bisher 33 N Tonträger auf verschiedenen europäischen Labels erschienen, die meisten davon auf dem von N bevorzugten Tonträgerformat Vinyl mit einem konzeptuellen, aufeinander aufbauenden Artwork, das die Stimmung des musikalischen Inhalts illustriert.
Im Rahmen von Live Auftritten verwendet N ausschließlich das oben genannte Setup. Backingtapes, Rechner oder vorgefertigte Loops werden grundsätzlich nicht benutzt.
www.n-1511.com
Das Synthetische Mischgewebe, Caen/Frankreich:
Heldensägen 01, 6:00 min., stereo, 2018
Heldensäge (patriotisches Tischgedeck aus der Nische der Randerscheinungen)
Wenn die Mehrheit dessen was als Musik mit künstlerischer Intention nur noch Segment ist, sich damit begnügt zwischen von Trends und Technologie bedingten Konturen Detail aus einem beliebig gewordenen Kontinuum zu sein, wenn minimalistische Ordnungsprinzipien die jene des Kapitalismus imitieren (also aus geringsten Aufwand größten Gewinn zu erstreben) und Ambiente = Biedermeier, Fieldrecording = Sonntagsspaziergang sowie Improvisation, nicht aus Prinzip sondern Zeitmangel vorherrschen wird Komponieren erneut Widerstand. Der Schnitt, die Zäsur sowie die Konstruktion erneuter Vereinigung disparater Teile vielleicht nicht nur Stilmittel sondern Waffenschein.
DAS SYNTHETISCHE MISCHGEWEBE exists 'officially' since 1980 now with a variable membership. Formed in Berlin, the group bach than was composed of interdisciplinary artists (visual artists, performers, musicians, writers and Engineers, Researchers) has presented performances, installations and concerts in many European countries as well as in New York, Montreal, Sao Paulo. DSM has also participated to symposiums, given lectures, participated to several publications and had artists residencies : Association, Pollen Monflanquin/Agen; Wharf, Centre d'Art Contemporaine, Herouville St Clair; Denkmalschmiede Höfgen; Akademie der Künste Berlin. Since 1999, the duo formed by Guido Hübner and Samuel Loviton has concentrated its activities on the music and collaborates since several years with Flavien Lavisse for the Live Video as well as Rainer Frey with whom the group worked already from 1985 to 1992. Since 2008 several room filling sound installations had been presented at different festivals, occasionally combined with performance works. These are primarily mechanical and electromagnetic environments in which the audience chooses its path amongst an ever evolving composition of sound events composed of layered epicycles.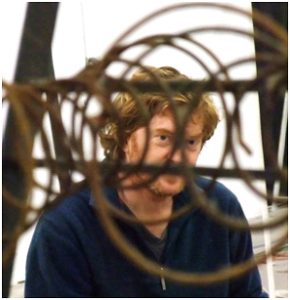 Photo: Das Synthetische Mischgewebe (Guido Hübner), Sonic Chair (Lisa Krutzke). Thanks to all artists and to Erhard Hirt and Georg Dietzler.