08.11.2013
Einlass: 20.30h, Beginn: 21.00h (pünktlich!!!!)
Eintritt: 8 EUR
Zimmermann's, Venloer Str. 39, 50672 Köln
www.reihe-m.de
Masayoshi Fujita & Jan Jelinek
Vibraphon-Klangexperimente treffen auf dichte Loops
EVOL
Computer music for hooligans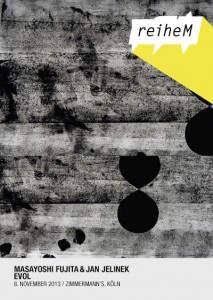 Die reiheM beleuchtet die experimentellen Ränder der Club-Kultur.
Jan Jelinek war mit seinem Projekt Farben einer der Wegbereiter des Minimal Techno. Nun kommt er erstmals im Duo mit dem japanischen Vibraphonisten Masayoshi Fujita nach Köln. Dichte Loops treffen auf warm-abstrakte Perkussionsläufe: der Klang wird zerstäubt und rhythmisch neu zusammengesetzt.
Das spanische Projekt EVOL setzt den Gegenakzent zum organischen Ambient des Duos Fujita/Jelinek. In grell-knarzender Acid-Manier peitschen EVOL brutal überlagerte Beats in den Raum, die sich zu einem zuckenden Klanggewitter verdichten. Death to Rave!
Masayoshi Fujita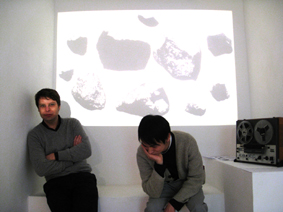 His route to Berlin was a roundabout one. Introduced to music via Bon Jovi, his first stint abroad naturally took him to the motherland of rock, the United States. After a year in the USA, he returned to Japan to study film. His love for movie making, however, proved less pronounced than his admiration for Bon Jovi, a band he can still quote and sing from memory. He decided to learn how to play the drums, followed by extensive vibraphone training to craft and play his own, mostly jazz and electronic-influenced compositions. Determined not to stick to traditional vibraphone styles or techniques, Masayoshi started to prepare his instrument with pieces of metal, strips of foil and similar objects. The resulting new sounds, akin to distortions, help to expand the vibraphone spectrum without eroding the instrument's intrinsic character or even abandoning it altogether. Besides his extremely reduced and deliberate style of playing, it is this aural redefinition that makes Masayoshi Fujita's craft so remarkable and noteworthy in my eyes. Literally caught in his spell, it was a delight and privilege to accompany his play. On a different note, Masayoshi's wood prints should not go unmentioned. The cover and booklet of Bird, Lake, Objects present concise, abstract and monochrome landscapes and thus a visual complement to his music.
Jan Jelinek
His approach is all about the transformation of sound, about translating parameters of popular music into abstract, reduced and textural electronics.
Bypassing the rules of traditional musicianship, he prefers to construct collages from tiny sound fragments, from the lost-and-found products of samplers, tape recorders, media players and other recording implements. To this end, Jan Jelinek often works with loops and slight modulations to distil the gist of a piece of music and define it more clearly while masking its original source.
Born and raised in Darmstadt, in 1995 Jelinek moved to Berlin to study sociology and philosophy – and embark on his experiments with a wide variety of sampling media.
After a brief incubation period, in 1998 he started to release his works under a number of pseudonyms, adapting his primary sampling premise to a surprising range of different sounds. Among others, Jelinek contributed to the Hannover-based EXPO 2000: together with design collective 3DeLuxe, he crafted several multimedia land- and soundscapes for the young media pavilion.
2001 saw the release of "Loop Finding Jazz Records", Jelinek's first album under his own name, a selection of tracks based on old jazz recordings. Here, the original arrangements dissolved into mere acoustic situations, thus turning the medium of sound into an instrument in its own right.
During the following years, Jan Jelinek collaborated with artists like Sarah Morris (ICE-Compositions) or German author Thomas Meinecke, played a range of laptop or gadget-based live sets, worked with improvisation ensembles from Japanese trio Computer Soup to the Australian jazz formation Triosk and created a number of audio-visual performances with programmer and video artist Karl Kliem for the Centre Pompidou in Paris, Kunsthalle Wien and Club Transmediale Berlin, among others.
In 2007, Jan Jelinek, Hanno Leichtmann and Andrew Pekler founded Groupshow. A deliberate lack of predetermined repertoire or timescale underscores the trio's improvisational emphasis. The resulting performances possess no clear start or end and resemble freeform installations.
In 2008, Jelinek started the label faitiche as a platform for his own sound experiments. To date, the label has released two works: Faitiche01, the forgotten oeuvre of an early electronics composer whose biography seems to veer between fiction and reality. Faitiche02 explores the question of copyright in public space.
Foto: Media Loca
www.faitiche.de
EVOL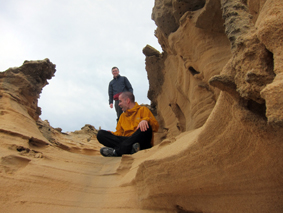 Roc Jiménez de Cisneros and Stephen Sharp produce what they call "computer music for hooligans". Their work is an aesthetic exploration of algorithmic composition and a deconstruction of rave culture. Their music has been published on record labels like Entr'acte, Editions Mego, Presto!?, fals.ch or their very own ALKU. Their work has been exhibited at numerous festivals, clubs, galleries and museums throughout the world. EVOL recordings, installations and performances have a unique approach to sound matter, full of upward spirals, trance inducing patterns and challenging temporal structures – halfway between academia and psychedelia.
Their latest published works include the LP "Proper Headshrinker", released by Editions Mego, the LP "Something Inflatable", released on ALKU, and a classic acid mix for iDEAL, which will also come out as a limited edition 12″ in late 2013.
Some of their recent installations include: "Continuum Expanded" (in "Sound Proof 4", London, 2011 and "Sound Spill", Galerie West, Den Haag, 2012); "Tetralemma + Tetrafluoroethane" (Graham Foundation for Advanced Studies in the Fine Arts, Chicago, 2011); "Rara Avis" (Science Museum of Barcelona, CosmoCaixa, 2011); "A very short proof of Forester's rigidity result" (with  Mark Fell, premiered at BIACS, Seville Biennial 2008, Istanbul Biennial 2010, Vienna 2011, and ZKM Media Museum, 2012-2013); "Hands in the air, reach for the laser" (Diapason Gallery, New York, 2010); "Mentasmic Score for Wave Field Synthesis System" (premiered in Barcelona, June 2012).
Foto: EVOL
More: http://vivapunani.org
reihe M wird gefördert durch das Kulturamt der Stadt Köln und das Ministerium für Familie, Kinder, Jugend, Kultur und Sport des Landes Nordrhein-Westfalen.