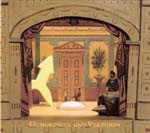 cd-audio
release date: 08.07.2014
artist:  ASMUS TIETCHENS
title: Humoresken und Vektoren
order no.: aatp45
Label code (LC): 01291
time: ca. 48:00 min
Retail price: 13,00 €, available from aufabwegen-mailorder
CD in full colour digipak with photos by Okko Bekker and Asmus Tietchens. Production: Okko Bekker. Recorded at Audiplex Studios Hamburg in 2012. 16 tracks of new material. 500 copies.
On "Humoresken und Vektoren"
"Humoresken und Vekotren" takes up a work that was started upon the invitation of Francisco Lopez for the spanish Störung label. The task was to deliver thirteen 2-minute original compositions for a compilation release. "Humoresken und Vektoren" recycles these miniatures from 2010 and undfolds it into eight new works having no resemblance with the original sourcings whatsoever. These eight tracks are bound together by eight short pieces entitled "Tristia" that function as bridges between the longer pieces. "Humoresken und Vektoren" is a combination of very dynamic and detailed sounds and a range of delicate layers and abstract textures. The CD features very surprising artwork unlike most recent Tietchens releases.
Asmus Tietchens writes:
Vier Humoresken, vier Vektoren und alle Stücke getrennt durch jeweils eine kleine Traurigkeit: Tristia, Die allerdings in gleich acht Varianten. Im 19. Jahrhundert wurden ohne Ende Humoresken komponiert.
Ich habe nie begriffen, was an diesen Stücken lustig sein sollte. Im 20. Jahrhundert gab es eh nichts mehr zu lachen, also wurden auch keine Humoresken mehr komponiert. Das 21. Jahrhundert scheint zum Schreien komisch zu werden, also habe ich vier Humoresken komponiert.
Wahrscheinlich wird kaum jemand heraushören, was an ihnen lustig ist.
Vier Vektoren geben zwar definierte Richtungen an, aber solange die Koordinaten nicht bekannt sind, zielen sie ins Nichts. Solche Vektoren zu betrachten, ist ebenso ergiebig, wie den Bereich zwischen Null und Eins zu untersuchen. Und vielleicht sind die acht kurzen Tristia- Stücke ja die eigentlichen Humoresken? Und die Vektoren ein wenig traurig? Und die Humoresken führen nirgendwohin?
Listen here: