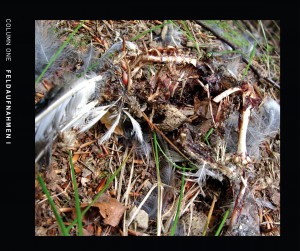 COLUMN ONE
'Feldaufnahmen I'
[AATP21]
AUF ABWEGEN, August 2007.
Limited edition of 500 copies, CD in digipak, 16 pp. booklet.
Available: 15,00 Euros
Feldaufnahmen I is the first release in a series of pure filed recordings by german multi-disciplinary experimental group Column One. The 12 recordings where collected in east Germany in the Polenztal within the mountain range called Elbsandsteingebirge in 2000-2001 with the simplest equipment. The recordings where edited and rearranged by Robert Schalinski in Berlin in 2006. Feldaufnahmen I is a new phase for Column One who have continued to change and evolve in their musical career. The group was renowned for post-industrial atmospheres, media collages and cut-up dadaist humor now they enter the terrain of sound ecology with their own twist. The 12 pieces on the disc radiate with beauty – they demonstrate the full spectrum of sounds that can be found in any relatively quiet natural resort: dogs barking, humming of insects, crackling of twigs, footsteps, wind and more.
The CD Feldaufnahmen I is presented in a full colour digipak with a 16 pages booklet with full colour reproductions of photographs taken by Column One in the area where the sounds were recorded.
ABOUT COLUMN ONE
Column One was founded in Berlin, 1992 by Robert Schalinski, Rene Lamp & Eike Bölling as the IDEOLOGICAL BASIS for an (aesthetic) approach to structures, philosophical ideas & media of the (now) western world. Rene Lamp & Robert Schalinski already had been working together on short-film projects. Eike Bölling was a member of Column One during a short period of time only & since then has been releasing minimal-heavy-electronic-music as NETZACH. Later… Jürgen Eckloff, Andrew Loadman & Tom Platt joined the project.
The philosophical ideas of Radical Constructivism, the paths of the Cut-Up demonstrators & Dada Fascists have had greater influence on the foundation and the work of Column One. The crucial point & the main motivation for the work of Column One is the Totalisation Of Communication. Meaning: to bring back into consciousness communication in its unavoidable consequence & presence. …thus, it's about decoding information, the utilisation, cutting up & decoding of that which is presented to us as Reality & of what we constantly present to ourselves. In order to succeed in this decoding process Column One utilises the existing forms of communication & its media & generally considers everything as raw material, basic element or finished product.
Column One operates as collective. Besides the founding members a changing amount of various members circulates from project to project: Andrew Loadman, Tom Platt, Jerôme Soudan (also: Mimetic), Wojcek Czern (also: Zia Siodma Gora), Jürgen Eckloff, Stea Andreasson (MOWE) Leo Solter (also: Kein Zweiter, Tornow), Urk Giten etc. Column One is part of Methods To Survive Net.Collaborations with: Artefakt Mag., Die Sibirische Zelle Jürgen Ploog, Genesis P-Orridge (Psychic TV, Throbbing Gristle), Tochnit Aleph (No is E etc.), Never Mind The World, Rex Joswig (H.I.P.), Paul Kendall (Mute), Quasister, Pawel Koslowski (Miasto Nie Spalo), Marc Weiser (Rechenzentrum), Justine Electra, Silksaw etc.www.column-one.de