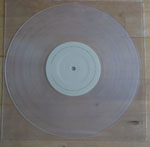 A U F  A B W E G E N  RELEASE INFO
10" VINYL
release date: 25.08.2011
artist:  FRANCISCO LÓPEZ
title: untitled #205
order no.: aatp31
Label code (LC): 01291
time: ca. 18 mins + 20 locked grooves
clear vinyl in clear plastic sleeve, with 20 locked grooves for DJs on
B-side. Limited to 300 copies
Price: 13,00 Euros
On "untitled #205":
Francisco López states: "Based exclusively on end grooves from vintage
records, 'untitled #205' is
a straightforward and joyful exploration of the potential for reincarnation
of these unintended sonic structures into new life. More a tool than a final
product, it delves into static, noise and rhythm with a hopeful
perspective."
The untitled #205 mix on the a-side brings us 18 minutes of hissy, textural
sound in dissolution, ranging from ryhthm to noise. The b-side has the 20
original loops López constructed out of old vintage 78s so if you buy 20
copies of this 10" you might be able to recreate the track….
On Francisco López
Francisco López is internationally recognized as one of the major figures of
the sound art and experimental music scene. Over the past 30 years he has
developed an astonishing sonic universe, absolutely personal and
iconoclastic, based on a profound listening of the world. Destroying
boundaries between industrial sounds and wilderness sound environments,
shifting with passion from the limits of perception to the most dreadful
abyss of sonic power, proposing a blind, profound and transcendental
listening, freed from the imperatives of knowledge and open to sensory and
spiritual expansion.
He has realized hundreds of concerts, projects with field recordings,
workshops and sound installations in 60 countries of the five continents.
His extensive catalog of sound pieces (with live and studio collaborations
with over 100 international artists) has been released by more than 200
record labels worldwide, and he has been awarded three times with honorary mentions at the competition of Ars Electronica Festival. [Pedro Higueras, Sonom Studios]