E D I T I O N  D E G E M  / A U F  A B W E G E N  RELEASE INFO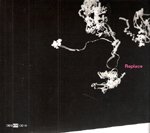 cd-audio
release date: 01.10.2011
artist:  various artists
title: DEGEM CD 10: Replace
order no.: ed01
Label code (LC): 27648
time: 78:08 min
packaged in full colour digipak with 6 panel fold booklet in german and english. curated and designed by Marc Behrens. 1000 copies.
EDITION DEGEM
aufabwegen is proud to host EDITION DEGEM, the new label issuing the annual compilations of the German Association for Electrocaoustic Music / Deutsche Gesellschaft für Elektroakustische Musik e.V. Each CD is curated by a sound artist and devoted to a specific theme/topic. The music covers a very wide range of electronic sounds, from sound art to post industrial cut ups, from field recordings and soundscapes to radiophonic composition.
The website for EDITION DEGEM is www.editiondegem.de
DEGEM CD 10: Replace
The first release on the new imprint is the compilation CD DEGEM CD 10: Replace, curated by Marc Bahrens. It includes 14 unreleased tracks by such artists as Nicolas Wiese, Kirsten Reese, Sam Auinger, Nikolaus Heyduck, Frank Niehusmann, Denise Ritter and more. Total playing time is 78 mins. The CD comes in a nice digipak with 6 panel fold booklet with liner notes on each track and a short essay on the theme "Replace" in german and english.
Price:  14,00 euro plus postage
Wholesale upon request.