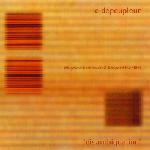 A U F  A B W E G E N  RELEASE INFO
cd-audio
release date: 10.03.2006
artist:  LE DEPEUPLEUR [zbigniew karkowski/kasper t. toeplitz]
title: 'Disambiguation'
order no.: aatp15
time: 46:25 min
500 copies in full colour paper sleeve, designed by Mal Hoeschen/Genesungswerk.
available: 12,00 €
'Disambiguation' is the third CD from the duo of Zbigniew Karkowski and Kaspar T. Toeplitz. It features one ongoing stream of grey, heavy and disturbing noises. It contains blocks of solid and almost material sounds, causing a physicality and urgency to the "music" which is rare to find these days.
ZBIGNIEW KARKOWSKI
Composer and performer of contemporary music. Was bom in Cracow – Poland but emigrated; as a,, teenager and afterwards lived in among others Gothenburg – Sweden, Amsterdam – Netherlands, Berlin – Germany, Paris – France, Los Angeles – USA and Tokyo – Japan. He studied music and composition for many different teachers and composers in Poland, Sweden, France and Netherlands. From today's perspective he considers that the only teacher who taught him something real, was Iannis Xenakis. Karkowski has presented his work in more then 30 countries on nearly all continents. He is convinced that it is a responsibility of an artist in present time to travel and move and work around the World in order to learn and understand different cultures and traditions and discover truth about us and our planet. He also strongly believes that geographical, political and social exile is a necessary condition for true creation. And true creation is the only act that really matters. Since 1994 he is based in Tokyo – Japan where he collaborates closely with japanese underground noise- and experimental artists. He is not interested in traditional definition of what is music, in his opinion all theory and systems of music as a cultural concepts have to be destroy ed. So in his latest work his main concern is on realizing drama with sound electronic and acoustic walls with scores based on architectures of ruins. Karkowski formed the legendary internet group Sensorband and is currently also playing in duos with Merzbow/Masami Akita (as MAZK) and with Pita Rehberg (as POP).
KASPAR T. TOEPLITZ
Composer, electric bass player and musician who has developed his work in the no man's land between "academic" composition (orchestra, ensembles, opera) and electronic "new music" or "noise music". Has won several prizes  and distinctions ; 1st prize for orchestral composition at the Besançon Festival, 1st prize at the "Opéra autrement/Acanthes" competition, Villa Médicis Hors les Murs (New York), grant Leonardo da Vinci (San Francisco) , Villa Kujoyama  (Kyoto),  DAAD (Berlin).
Got numerous commissions from the French Governement, the radio and from  electronic studios such as Ircam, GRM , GMEM, CRFMW, EMS.. Works  with experimental or unclassifiable musicians  such as Zbigniew Karkowski, Tetsuo Furudate, Dror Feiler, Art Zoyd, Eliane Radigue, Phill Niblock, John Duncan, others. Directs his own ensemble which does not have a name, and is made up of musicians who have the same musical preoccupations – rupture. Has definitively integrated the computer into the very heart of his work, as a tool of thought and composition, and as a live instrument, hybridising more traditional instruments if necessary, or working on the sheer electronic noise.