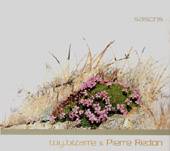 cd-audio
release date: 27.01.2008
artist: TOY.BIZARRE & PIERRE REDON
catalogue.: aatp24
time: 47:55 min
full colour digipak / 500 copies / designed by Pierre Redon
Available: 13,00 Euros
About SAISONS:
This collaborative effort brings us some of the most beautiful and atmospheric instances of composition with nature. the four tracks, some solitary works, some creatied by using field sourcings of the opponent, feature subtle wildlife field recordings, detailed electro-acoustic passages, swelling metallic drones and amplified silences.
toy.bizarre is the long running project by cedric peyronnet, who has specialized in location recordings often documenting a specific site and displaying an open ear to the beauty and potential of natural sound fields. Peyronnet has released numerous works on different labels around the world
(drone, 20city, ferns, duebel, staalplaat and more), has collaborated with brume, roel meelkop, eric la casa, dale lloyd and others and runs his own label kaon.
website: www.ingeos.org
pierre redon is a young and brave sound worker who is also active in the fields of photography, design, installation work and the organizer of sound walks in his native france. since 2002 toy.bizarre and pierre redon record and perform together. pierre redon contributes electronic sounds and guitar drones to the album, as well as his wonderful design.
website: www.pierreredon.com