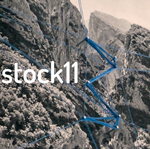 aufabwegen welcomes stock11!
stock11 is an artist collective focussing on the strength of collaborative work.
stock11_003 is their latest portrait CD showcasing some of the group's latest works, including pieces by Jennifer Walshe, Hannes Seidl, taste, Christoph Ogiermann & Jürgen Palmtag, Uwe Rasch and Maximilian Marcoll.
The CD comes in a full colour artwork designed by Christa Marek with an essay by Tim Schomacker. Mastering by Sebastian Schottke.
All pieces were recorded and mastered at ZKM | Karlsruhe.
A co-production by ZKM | Karlsruhe and stock11.