A U F  A B W E G E N  RELEASE INFO
CD audio / digital
release date: 27.01.2015
artists:  MØHR / MAEROR TRI
title: Hafenstadt
order no.: aatp19
Label code (LC): 01291
time: 56:25 mins
digipak designed by Tilmann Benninghaus. Limited to 500 copies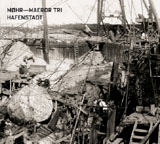 On "Hafenstadt":
This music was originally planned to form a part of the third tape box in the MØHR interpretation series of ZNS TAPES. In this series different artists got an individual 30-minutes-piece of basic material by MØHR to be interpreted it in any way: Using it as a backing tape and adding some more tracks, getting inspired and doing something unique in the spirit of the basic material, deconstruct and arrange it anew. The invited artists had any opportunity to re-work the source material. For the actual release the basic material was placed on side A and the interpretation on side B, enabling the listener to compare the basic and the final sound. Three tapes were compiled as one tape box linked by a loose theme. The first box, Bürokratie, contained works by DAS KONZENTRAT, BESTATTUNGSINSTITUT and SUICIDE COMMANDO (released in 1990), the second, Kulturschock, contained works by ANDREW CHALK/DARREN TATE, ECTOPLASMIC EMBRYO EXPERIENCE and FLAGRANTs D'ELI (released in 1991). The third one, which was to contain Hafenstadt by MAEROR TRI (as well as material of PBK and THE HATERS), has never been released due to the sudden end of ZNS TAPES. We're convinced that this combination of basic stuff plus musical reworking is still an interesting and exciting experience for the audience, maybe especially after more than 20 years in the archives. (Andreaz Vogel)
MØHR biography
MØHR existed between 1986 and 1994 as the solo project of Andreaz Vogel. Previously he had been active as a bass player and drummer in various post punk and noise rock groups.Since its inception the main aim with MØHR  was to create a dense and energetic sound without the use of conventional instruemnts. With this wall of sound the listeners were almost under attack and forced into a dark and brooding listening environment, both on the recordings and in the live situation. Andreaz also ran the important tape label ZNS TAPES.
MAEROR TRI biography
MAEROR TRI existed from April 1988 to the end of 1996, coming from the very north-western part of Germany. The three members were influenced by (post) industrial, noise rock and experimental ambient and found a way to establish their very own drone based style, using often guitars but also other instruments plus all kinds of (self build) objects and masses of sound effects. Their symbol, the triangle "Wheel" stood for 'consciousness', moving & shining in different colours and speed. The sound was meant as a tool for the listener to open the mind for transcension & sensitization: 'We want to transmit a total openness, the bursting and overcoming of all mental barriers, the breaking out of the enforced subject "Tunnel-Reality" of modern society. ' Out of MAEROR TRI evolved the projects TROUM and 1000SCHOEN that are still very active.
retail: 13,00 euro
order from zipo@aufabwegen.com
Available from aufabwegen-mailorder