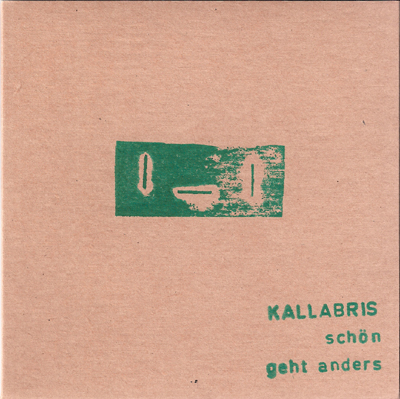 A U F  A B W E G E N  RELEASE INFO
CD / digital
release date: 15.12.2015
artist:  KALLABRIS
title: Schön geht anders
order no.: aatp30
Label code (LC): 01291
time: ca. 50 mins
hand-stamped eco-sleeve, designed by Kallabris. Mastered by Jac Beloeil.
Ltd. to 300 copies
price: 12,00 € plus postage
available from aufabwegen mailorder.
On "Schön geht anders":
29 tracks of sheer joie de vivre form this manifesto of musical positivism.
Reductionist on their acoustic surface, constructivist in their compositional core, the tracks themselves and in their sequence point to a sociological base: a sociology of sound or a sound sociology driven by the rough necessities of political acoustics. Advanced 4-track tape recording techniques struggle with primitive digital technology, thus forming a class of sound which contains itself as an element and attribute. The sublation of music reveals the revolutionary nature of movement in which its end becomes the condition of its beginning. Yes, beauty may really work differently – but it is necessity that elevates the sound to a static sculpture of dynamics.
Biography:
Kallabris is a musical project that was begun in the mid 1980ies out of the scene around Coitra's Clan. Since ist inception Kallabris has persistently neglected any usage of advanced recording technology. Ever since not technical or compositonal innovation is at the core of the group's work but, the active engagement with the limitations and the objects of every day life. This sound positivism can result in stylistically varied outputs ranging from chanson or country blues to musique concrète – while all musics live by their surfaces. Save the surface and you save all.
www.kallabris.de