A U F  A B W E G E N  RELEASE INFO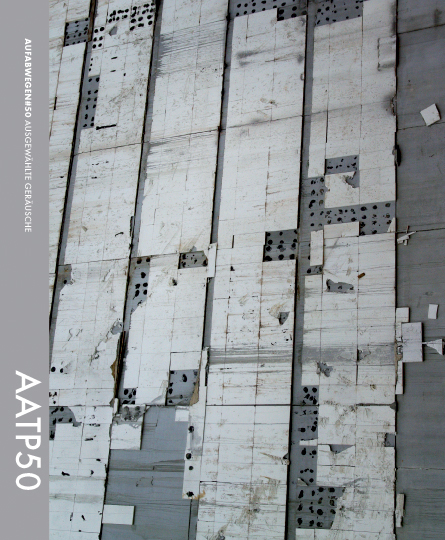 2xCD
release date: 21.06.2016
artist:  various artists
title: aufabwegen50. ausgewählte geräusche
order no.: aatp50
Label code (LC): 01291
time: CD1: 78:45; CD2: 78:52
price: 22,00 € plus postage
available at aufabwegen mailorder
DVD Digibook with 82 pp booklet featuring extensive artist info and essays on sound by Johannes Ullmaier and Till Kniola (all in german and english), designed by Robert Schalinski. CDs mastered by Marcus Schmickler, edition of 1000 copies.
29 unreleased or rare tracks by AALFANG MIT PFERDEKOPF, ARS MORIENDI, MARC BEHRENS, FRANK BRETSCHNEIDER, GREGORY BÜTTNER, COLUMN ONE, CORE, CRANIOCLAST, EVAPORI, FETISCH PARK, LIMPE FUCHS, CHRISTOPH HEEMANN, HITHLAHABUTH, KALLABRIS, THOMAS KÖNER, KONTAKTA, KONRAD KRAFT, licht-ung, MAEROR TRI, MØHR, N(33), RLW, SCHACHTANLAGE GEGENORT, DAS SYNTHETISCHE MISCHGEWEBE, ASMUS TIETCHENS, DIE TÖDLICHE DORIS, WERKBUND, ACHIM WOLLSCHEID, XYRAMAT.
About "aufabwegen50. ausgewählte geräusche":
The 50th release by the aufabwegen label is also part of the edition elektronik of the Deutscher Musikrat. The extensive double CD compilation comes with a detailed booklet. The release links up the history of the aufabwegen label with a personal take on the evolution of noise music in Germany. It traces the developments from the early cathartic powers of pure noise via bruitistic sound researches up to the formation of an aesthetic of noises themselves; a self conscious sound culture. This movement is illustrated for the listener in 29 subjectively selected tracks. The sounds range from subtle ambient via dense collages and concrete sound landscapes on to rhythmic pieces. It comprises almost exclusively of unreleased or very rare to find material by all participating artists. The collection features pieces by some of the founding projects of noise music as well as newer projects and younger musicians thereby showcasing a wide range of contemporary artistic positions in noise music. It is hoped that this broad scope will draw new audiences to the magic of noise music.