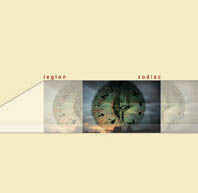 cd-audio
releaae date: 01.12.2002
artist: LEGION
title: ZODIAC
order no.: aatp11
time: 53:00 min
jewel case / 500 copies / full colour design by suspicion breeds confidence
Sold out!
On Zodiac:
The fourth album, Zodiac is named after (but not dedicated to) the infamous Zodiac killer who terrorised the San Francisco area in the 1960's & 70's. Legion's concept for the album was to investigate how deep the human capacity for evil and self-deception could stretch. The answers may lie within the tracks on the album. Having been subjected to repeated listenings during the mixing of the album, Legion can confirm that listeners with weak mental capacity should definitely not be auditioning this at parties. Recorded: May 2001 to June 2002 at 'The 733 Digital Matrix'
On Legion:
Andrew Lagowski has been recording electronic music since 1982. Previous to that he was a drummer emulating the machine-styles of Steve Morris (Joy Division/New Order) and John Maher (Buzzcocks). He has worked on many projects including S.E.T.I., Legion, Terror Against Terror, Isolrubin B.K. and Lustmord. In 1992/3 Lagowski released a series of 12″ singles on the Chromium Industries and GPR labels which brought widespread recognition from domestic radio stations such as Kiss FM and BBC¹s John Peel show and numerous European and continental stations. Lagowski¹s compositions have been heard live in clubs and on radio worldwide. From Kyoto¹s Metro club to Osaka¹s Neo and all over Europe, including Munich (Ultraschall), Berlin (Supamollie), Rostock (MS Stubnitz), Ravensburg, Paris (Full Scale Trip), Denmark (Aarhus Planetarium), Belgium, Vienna (Phonotaktik Festival, Vienna Planetarium), Nantes & Nevers (Oblique music festivals) in France and of course London (Knowledge/SW1, Global Café/Soho, Arcangel/Borderline). Recent news is that the S.E.T.I. track ŒMare Crisium¹ will be used in the forthcoming feature film ŒPoem¹, by German director Ralf Schmerberg. A new album recorded with Toru Yamanaka will be released early 2003. Lagowski has also designed sounds for the internal chip of the Yamaha CS6 synthesizer as a representative of London¹s electronic music community.
Andrew Lagowski has recently announced that he has stopped the Legion project.
tracklisting:
Hell & Damnation
The Caravan
Four Fourty Four
Martyrs
Ion
Info:
www.lagowski.com