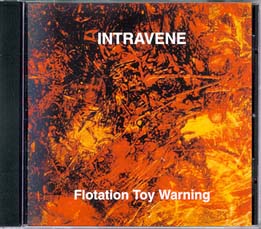 Artist: INTRAVENE
Title: Flotation Toy Warning
Format: CD only
Cat.-No.: AATP04
Release date: 06.'98
Edition: ltd. ed. 711 copies
Available: 13,00 Euros (very last copies!)
INTRAVENE is the newly formed project by Stephen Meixner (from CONTRASTATE) and Steve Pittis (BAND OF PAIN). After working together on various one-off improvisations Meixner/Pittis have decided to join forces for a new creative outfit. INTRAVENE, dare we say it!, combines the two best features of the participants' main projects: it has Contrastate's expertise for dense arrangements and cultural comment through collage work but, also features some dense atmospherícs of which Band Of Pain are so bloody capable. Where the hell those drum'n'bass attacks in between come from we simply don't know….
Flotation Toy Warning is a very dark but, informed stream of consciousness musical endeavour which demands the listener's attention to the full. Media samplings and scary loops in the background and some concrete tape manipulations and sound manouvres in the fore – what more can you ask for?
INTRAVENE will certainly open up new ways in the post-industrial genre. Flotation Toy Warning has four long tracks that go through various phases of manipulation and refiguration. The outcome of INTRAVENE'S experiments is always thrilling.