A U F A B W E G E N RELEASE INFO
2x cd-audio
release date: 25.02.2010
artist: ASMUS TIETCHENS + RICHARD CHARTIER
title: FABRICATION 2
order no.: aatp29
Label code (LC): 01291
time: disc 1: 39:15 min; disc 2: 43:19 min
full colour gatefold paper sleeve, reproducing an original painting by Chartier
500 copies / designed by Richard Chartier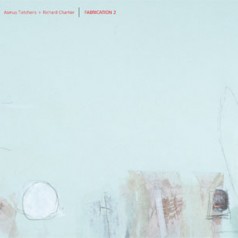 On "Fabrication 2″:
"Fabrication 2" ist the sequel to "Fabrication", the first collaboration between Richard Chartier and Asmus Tietchens released in 2007. Whereas for the first collab the idea developed from the project around reinterpretations of Chartier's "Postfabricated" this time the efforts where directly focussed on the reinterpretation of specific basic sound material. This basic sound material can be found on the first disc in the set "Prefabrication 2" which was constructed by Richard Chartier alone in Montreal and Washington, DC. "Fabrication 2" is the reworking of this sonic basis by Asmus Tietchens. Whereas the first CD has traces of subtle dematerialized rhythmic structures the second disc is a study in minimalism and concentrated sound manipulation.
Richard Chartier (b.1971), sound and installation artist, is considered one of the key figures in the current of reductionist electronic sound art which has been termed both "microsound" and Neo-Modernist. Chartier's minimalist digital work explores the inter-relationships between the spatial nature of sound, silence, focus, perception and the act of listening itself.
Chartier's critically acclaimed sound works have been published over the past 12 years as 38 compact discs on labels such as 12k/LINE (US), Raster-Noton (Germany), Spekk (Japan), Non Visual Objects (Austria), Room40 (Australia), Die Stadt (Germany), DSP (Italy), ERS (Netherlands), and Trente Oiseaux (Germany). He has collaborated with noted sound artists Taylor Deupree, William Basinski, CoH, and German pioneer Asmus Tietchens, as well as installation artists Evelina Domnitch, Dmitry Gelfand, and visual artist Linn Meyers.
Asmus Tietchens has been producing electronic music since the 1960ies and is one of the most renowned sound artists today in Germany. In the last five years he was awarded twice the SWR state radio prize "Karl Sczuka Preis" for radio art. He has released more than 80 records and CDs on labels all around the world.
Info:
www.aufabwegen.com
www.3particles.com
www.tietchens.de
18,00 euros plus postage
order from zipo@aufabwegen.com