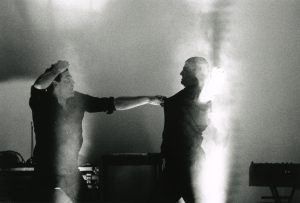 There will be another edition of our Geräuschwelten Festival in Münster on 24.05. and 25.05.2019. The concerts will happen again at the wonderful BlackBox/cuba-cultur venue.
This is the line-up:
24.05.2019 – ÉTANT DONNÉS, KONRAD KRAFT, ESTHER VENROOY
25.05.2019 – ANNE GILLIS, THIGHPAULSANDRA, ANTHONY PATERAS, JEROME NOETINGER
Pre-sale is open now, if you want to order your tickets you can do so now by writing an email to zipo [at] aufabwegen [dot] com
Ticket prices:
24.05.: 15,00 €
25.05.: 18,00 €
2-day festival ticket: 30,00 €
All concerts will be recorded by WDR3 radio and broadcast at a later date in their programme.
Artist bios and more info to follow.
Étant Donnés photo by Joseph Caprio.